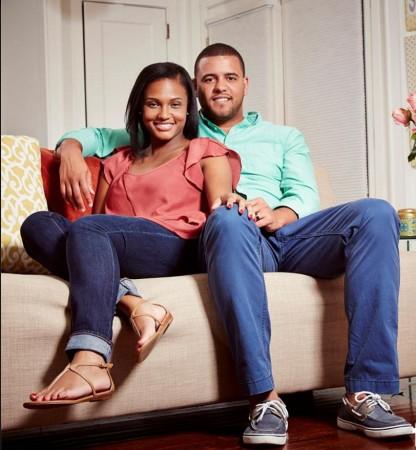 It's been a few weeks since the couples on FYI's reality show "Married at First Sight" tied the knot in the Season 3 premiere episode. While marriage as an institution has suited some, the other couples struggle to find common ground. This is seen mostly in David and Ashley and Neil and Sam's marriage. While they continue to work on their relationship, it appears Tres and Vanessa want to take things to the next level.
In Season 3 Episode 9, titled "Making Memories", Vanessa and Tres discuss their marriage and talk about starting a family. Although Vanessa isn't pregnant yet, she hopes to be in the near future. But before any of this can take place, the couple share a meal cooked by Tres. He makes a bowl of taco salad.
In the promo, Vanessa says Tres' palate is an indicator of his simple tastes. "I don't have to go all out cooking these elaborate meals. I can get a bag of lettuce and Doritos and he's fine," she quips.
In David and Ashley's house, the situation is somewhat different. Ashley finally tells her husband she isn't attracted to him physically. We predict this news might lead to another fight between the two. Hopefully, they can resolve their problems.
Elsewhere in the episode, Neil and Sam will work on communicating better with each other. In the previous episode, Neil and Sam had a huge argument about their living situation, and it remains to be seen if they have taken the psychologist's advice.
Season 3 Episode 10's synopsis reads:
The couples get spiritual counsel to increase joy in their relationships. Also: Samantha and Neil work on communication; David tries to accept that Ashley is not physically attracted to him; and Tres and Vanessa talk about having a family.
"Married at First Sight" Season 3 Episode 10, titled "Making Memories", airs on Tuesday, 26 January, at 9 pm on FYI. You can live-stream the episode here.
Watch the promo here: