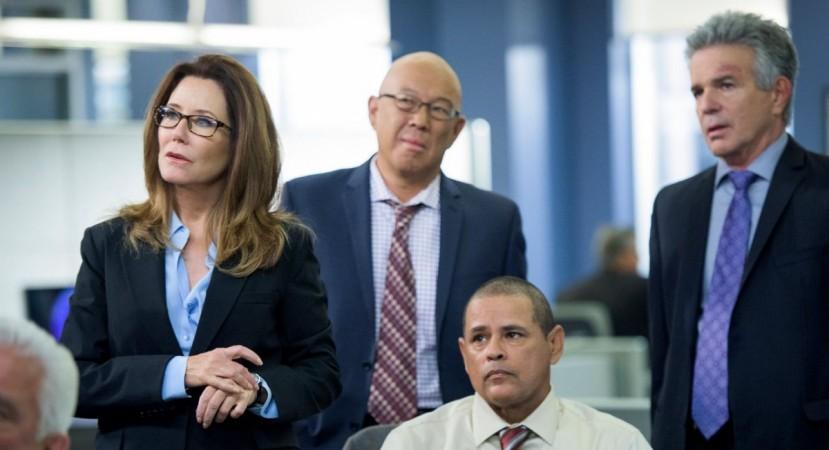 This week's instalment of "Major Crimes" is inspired by all the deadly and gruesome terrorist activities taking place right now. In Season 5 episode 3 titled "Foreign Affairs," Sharon and her team will be on the hunt for a person who carries out an Isis style execution.
When the latest episode of "Major Crimes" airs, Sharon and her team will investigate a beheading of U.S. armed forces personnel. But their search will prove to be difficult because all they find is a weapon. Of course a DNA analysis could provide some solutions, but the team doesn't seem to be thinking about that.
In the promo for Season 5 episode 3, Sharon points at a map and tells her team, "That's the haystack."
Although the Major Crimes division will try its best to look for leads, they will face a roadblock when they team-up with the FBI. The two divisions will be territorial about their investigation and this will lead to some unexpected problems for Sharon and her team.
Series creator James Duff said in an interview with TV Line, "There is a beheading and it turns out to be in the 'American homeland,' as the terrorist describes it, and the FBI (led by Annie Wersching's Special Agent Soto) is trying to look for him without alerting everybody to where he might be."
Although the FBI and the Major Crimes division might just find the killer in the end, they will have to the face the threat of more deaths. But first, Sharon's clever ways in dealing with the FBI remains to be seen.
"Major Crimes" Season 5 episode 3 airs at 10 p.m. EST on Monday, June 27, on TNT. You can live-stream the episode via TNT's website.