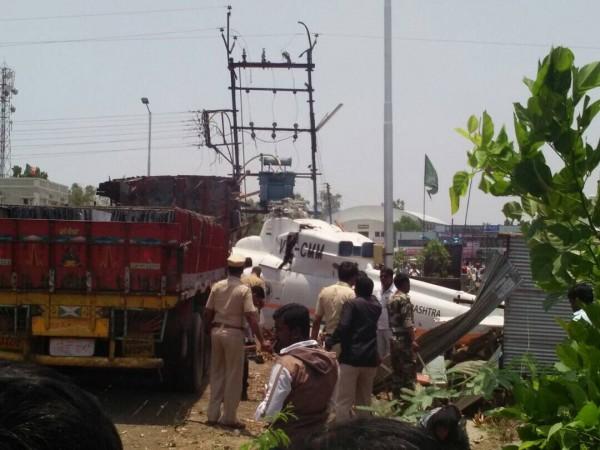 Maharashtra Chief Minister Devendra Fadnavis had a close shave on Thursday when the helicopter he was travelling in crashed in the Latur district. However, all six aboard the chopper — two pilots, Fadnavis and three members of his staff — are said to have escaped unhurt.
Fadnavis even took to Twitter to say that he felt that the blessings of not only the gods but also the 11.2 crore people of Maharashtra were with him, and he had cheated death because of this. He also said in a tweet: "Our helicopter did meet with an accident in Latur but me and my team is absolutely safe and ok. Nothing to worry. [sic]"
The video of the crash shows there was high wind at the venue, and the chopper also touched a high-tension electric wire, something the pilot of the helicopter confirmed to ANI. He said: "We took off from the helipad at noon. The wind-speed was high." He said that the wind-speed would reduce later.
He also said that when the wind-speed reduced, that chopper "started coming down." He added: "There was a high-tension cable there. We tried avoiding it but by then the helicopter had touched it." This can be seen in the footage of the crash:
Fadnavis then took to Twitter to thank his stars and count his blessings, and said that he would progress much farther in life if these blessings — of the gods as well as the masses — stayed with him. Watch what he said here:
With the blessings of people of Maharashtra and Nation, I'm safe.
My team is fine too.
Please do not believe any rumours. pic.twitter.com/4B7OUmD0ss

— Devendra Fadnavis (@Dev_Fadnavis) May 25, 2017