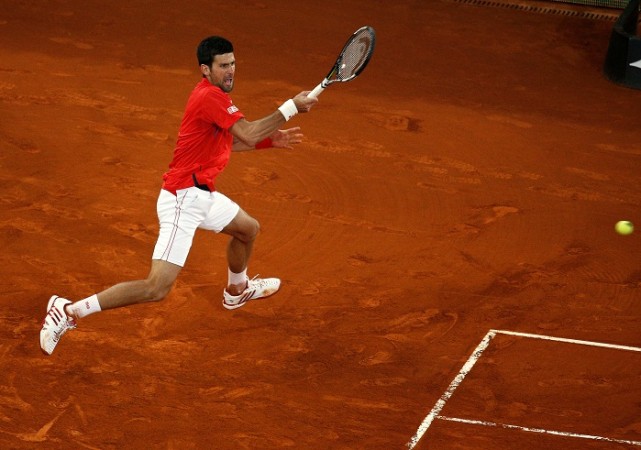 The two highest-ranked tennis players of the world, Novak Djokovic and Andy Murray, are set for yet another final in the ATP circuit. The Serbain will take on the Brit in the Madrid Open final on Sunday, in what is expected to be an entertaining affair between top-class players.
Djokovic and Murray might prefer to play hard courts, but their performance on clay courts are also second to none, as is evident from their performances so far in the Madrid Open. Djokovic, who brushed aside Kei Nishikori in the semifinals, has not dropped a single set in the Madrid Open, and if he continues this form, Murray might not be able to defend his title.
Djokovic is reportedly looking forward to the final against Murray.
"Andy has tremendously improved in the last couple of years on the clay courts, he has already proved that he's definitely one of the best players in the world on this surface as well. The rivalry continues. We have so many great finals, great matches, and I look forward to another one," Sky Sports quoted Djokovic as saying.
Murray has also been mighty impressive in the Madrid Open so far, dropping only one set. He lost the set to Radek Stepanek in the second round of the competition. But Murray's biggest test came in the semifinals against Rafael Nadal, who is one of the best clay players the world has ever seen.
Murray defeated Nadal in straight sets to set up a date with Djokovic. The second seed looked good against Nadal, and was extremely strong during his returns, which helped him win 7-5, 6-4.
"I felt as though I made a lot of returns in play — I didn't make too many mistakes on the return so was able to make him work hard on his service games," Sky Sports quoted Murray as saying.
"Against Rafa, he doesn't serve as hard as everyone else but he puts a lot of pressure on your return because if you don't hit a good one he dictates the points straight away with the forehand. I was able to get some good direction on the forehand and I think that helped me today [Saturday]."
With Djokovic and Murray having played some brilliant tennis to reach Madrid Open final, fans will be eager for the match to start. Both the players love to play an attacking game from the baseline, which makes the contest even more interesting. If Djokovic hits the ball hard, Murray can return the ball with same venom, hence one can anticipate a number of powerful rallies during the game.
Djokovic and Murray have enjoyed considerable success in the Madrid Open, with the Brit winning it in 2008 and 2015 while the Serb emerged victorious in 2011. Irrespective of who lifts the Madrid Open title this time around, the winner will be confident ahead of the French Open, which draws closer. The French Open starts on May 22.
Where to watch live
Novak Djokovic vs Andy Murray Madrid Open final is scheduled for 6:30 p.m local time (5:30 p.m BST, 10 p.m IST, 12:30 p.m ET ) start. Unfortunately, there is no live coverage of the final in India.
UK viewers can watch Novak Djokovic vs Andy Murray Madrid Open final on Sky Sports 3, with live streaming option on SkyGo.
US viewers can watch Novak Djokovic vs Andy Murray Madrid Open final on Tennis Channel, with live streaming option on Tennis Channel Online.
Viewers around the world can also watch the Novak Djokovic vs Andy Murray Madrid Open final online on livetennis.com.