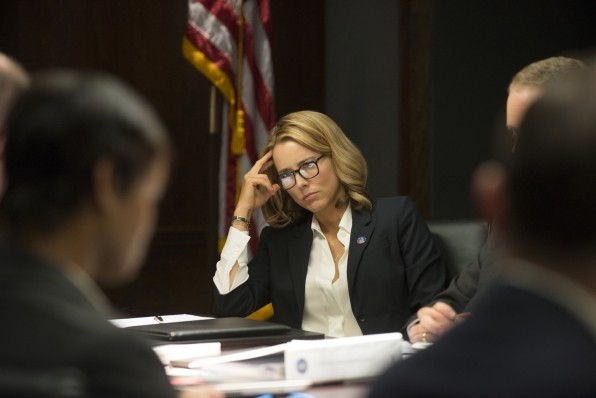 The latest instalment of "Madam Secretary" will reflect real-world problems. In Season 2 Episode 16 titled "Hijriyyah," the U.S. secretary of state will receive intelligence inputs on most-wanted terrorist Jibral Disah's (Bobak Bakhtiari) whereabouts.
In the upcoming episode of CBS' political thriller, a Libyan boat carrying refugees will send a distress signal which will be picked up by an Italian warship. In an attempt to secure their safety, they will offer information which the U.S. will greatly value.
[Spoiler Alert]
Elizabeth McCord (Téa Leoni) will be given 20 minutes to decide if the intelligence is legitimate. Although it doesn't seem like a long time, the secretary of state will believe her source and ask her team to run a background check on the person who offers this information.
In the promo, Bess is told the informant handed over all her money just to get away. The next few scenes show this informant, a burqa-clad woman, suffering as the boat rocks in the sea. Elizabeth tells her team she wants to give asylum to her and others in the boat. This upsets her team, who call them a group of terrorists.
"These people matter. They are not going back," Bess says.
Episode 16 of "Madam Secretary" will focus on the titular character, Hijriyyah, who appears to be the third wife of Disah. Her introduction to the plot will change the narrative of Season 2's last few episodes. It remains to be seen if she is telling the truth or acting on the orders of her husband.
Season 2 Episode 16's synopsis released on TV Guide reads:
Elizabeth is presented with the opportunity to question a person who claims to know the whereabouts of the most-wanted terrorist in the world. In other events, Stevie brings her boyfriend home to meet her parents.
"Madam Secretary" Season 2 Episode 16 airs Sunday, March 6 at 8 p.m. on CBS. You can live-stream the episode via CBS All Access.