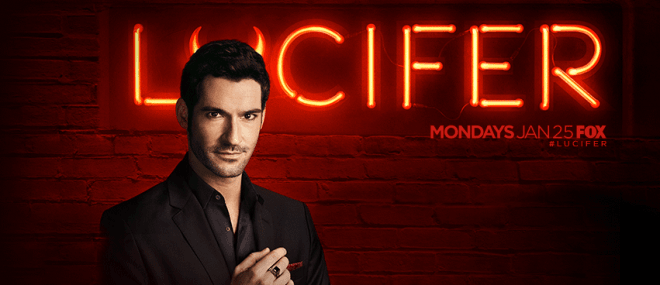 In yet another attempt to make the Devil the hero, FOX is premiering "Lucifer" on Monday, 25 January. In the freshman show, Lucifer Morningstar (Tom Ellis), the king of hell, is tired of his job, and has moved to Los Angeles and is running a nightclub called Lux.
Lucifer gets his kicks from exposing the innermost secrets of people, and compelling terrible people to reveal their evil plans. However, his humane side is revealed when a woman, Delilah (AnnaLynne McCord), who made a deal with him, gets killed. He obviously cared for her and helps the LAPD in solving her murder.
He finds a friend in LAPD detective Chloe's (Lauren German) young daughter Tryixie (Scarlett Estevez) and a confidant in his "therapist" Linda (Rachael Harris). "Lucifer" surely has a funny premise; but is it enough to entertain audiences for an entire season? Read the following reviews and find out:
The best thing I can say about the Lucifer pilot is although it utilizes a hilarious number of on-the-nose topical soundtrack choices, it doesn't use "Sympathy for the Devil." The best thing I can say about the fifth episode is that it made me curious about the sixth. I won't be bothering with the second and third episodes.
Lucifer sets itself apart from the more serious fare on our screens, and is a refreshing reprieve. It was certainly one of the stand out shows screened this weekend, and we'll be eagerly awaiting the rest of the season when it airs on Fox.
The show, which glides past its mythology Monday, eventually gets bogged down in it — particularly in a silly B-story built around the Angel Amenadiel's (D.B. Woodside) attempts to use Lucifer's bodyguard (Lesley-Ann Brandt) and therapist (Rachael Harris) to lure Lucifer back to hell. Lucifer begins to feel mortal, which is dull, and begins to cross that thin line between amusing and annoying, which is worse.
I completely get why FOX would want to turn Neil Gaiman's Satan character into a consultant for the LAPD: it's pragmatic and accessible to viewers. Luckily, Tom Ellis lends no small amount of charm to Lucifer, making the show at least somewhat enjoyable to watch. The tone is also spot-on, thanks to clever writing. Alas, it's hard to see the lasting appeal of Lucifer when it's already shaping up to be a case-of-the-week show with little else to tempt you to it.
Lucifer soon manages to get himself named a civilian consultant to the police, and he and the reluctant Chloe become a sort of buddy-cop team working a crime-of-the-week format. The crimes, though, are uninvolving. A few episodes in, the show begins building a psychological framework for Lucifer — Does he want to be mortal? Is he trying to get back in God's good graces? — but you probably won't be around to care.