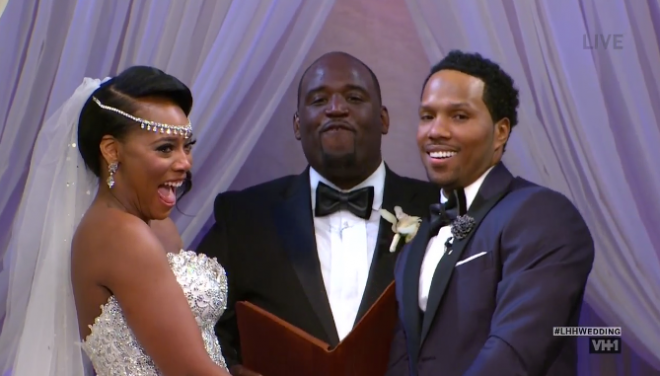 "Love and Hip Hop: New York" Season 6 is drawing to a close with the finale episode titled "Love Conquers All" on Monday, March 07, 2016. The show is expected to end with a celebratory note of Papoose and Remy Ma's wedding.
As fans know, Papoose and Remy have been married for several years now, but because Remy was in prison at the time, they could not celebrate it. Since the beginning of the season, the couple has been planning to hold a ceremony to celebrate their love in front of their friends and family.
Remy has been enlisting the help of her best friend Rah Ali and while the two of them have problems of their own, they were still managing to be there for each other. However, Yandy Smith inserted herself between the two friends and the issued went double-fold.
Rah and Yandy did find a way to coexist in the previous episode, and it looks like Remy's wedding will be the fairy tale she hopes it to be, barring a small issue with the officiator.
Also Read: Hannah finds nude photos of Fran's ex in "Girls"
Meanwhile, another marriage is crumbling in the "Love and Hip Hop: New York" universe; that of Peter Gunz and Amina Buddafly. The couple has been through hell this season, with Peter getting both Amina and his ex-girlfriend Tara pregnant around the same time.
While Amina decided to abort the child, Tara decided on keeping hers, making Amina even more furious that she was. However, Tara and Peter had decided to work on their marriage, and from the synopsis for "Love Conquers All," it looks like things have fallen apart.
Another family getting split up in the Season 6 finale of "Love and Hip Hop: New York" is that of Yandy and Mendeecees. Fans have known for a while now that Mendeeceees is going to jail, there was even a huge controversy involving a "distasteful going away party" Yandy organised for her husband a couple weeks back.
Watch all these threads get tied up in the upcoming Season 6 Episode 12 of "Love and Hip Hop: New York." You can also live stream "Love Conquers All" via VH1 website. For clips from previous episodes of "Love and Hip Hop New York", visit WhipClip.