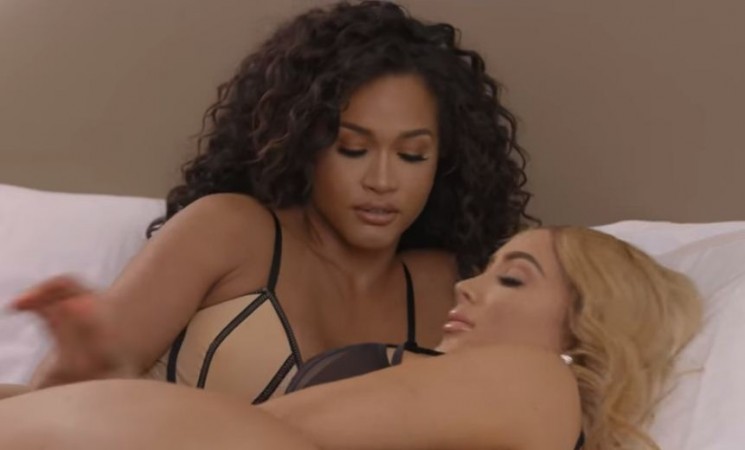 Amid all the romance in Love and Hip Hop Hollywood, Miss Nikki Baby seems to have stolen the show in Season 3 by dating two beautiful people – one of each sex – at the same time.
Over the last couple of episodes, Nikki has been finding it quite difficult to hide her girlfriend and boyfriend from the other. However, the gig will be up when Love and Hip Hop Season 3 episode 6 goes on air on Monday, 19 September. It is understood that Safaree will not only learn about Rosa, he will catch Nikki with her.
Safaree does get a hint about Nikki's double life from Ray J first, and some free unqualified advice along with it. The newly-wed Ray J thinks that Safaree should demand a threesome from Nikki and even goes so far as to say that there is no way either of the women would say no to this. Despite knowing this is terrible advice, Willie and A1, who were with the men, keep mum.
It seems Safaree is going to take Ray's advice and demand that he "wants it all" in the upcoming episode. From the super trailer for Season 3 of Love and Hip Hop Hollywood it is clear that Nikki and Rosa are not going to be sold on this idea, at least not initially.
Meanwhile, fans will also see Ray J and Princess planning their wedding in the episode. Despite having just got married, they are already surrounded by rumours about Princess Love being pregnant, and having heard enough about it, the singer denied them on Twitter.
NO I don't have kids and NO I'm not pregnant lol

— Princess Love (@mzprincesslove) September 18, 2016
The official synopsis for Season 3 episode 6 of Love and Hip Hop Hollywood reads:
Safaree catches Nikki in the act; Brandi and Max's marriage is tested when he begins to work with Masika; Princess plans a wedding.
Don't forget to watch Season 3 episode 6 of Love and Hip Hop Hollywood at 8 pm (EST) on Monday, 19 September. You can also watch I Want It All online via VH1 website.