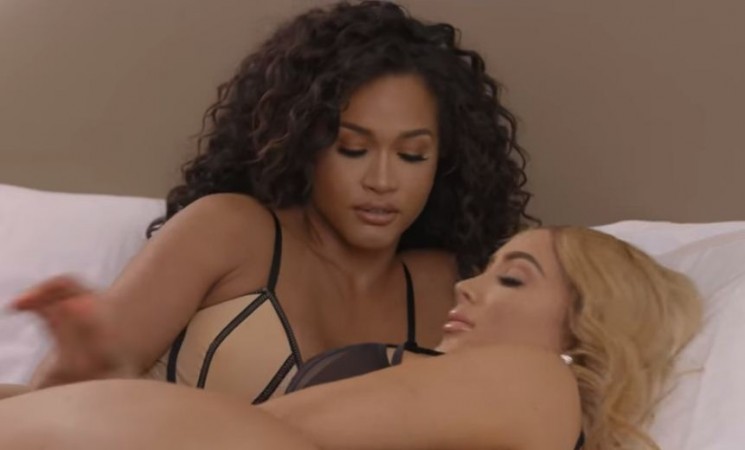 Miss Nikki Baby has really come into her own in Season 3 of "Love and Hip Hop Hollywood." After being the woman that was cheated on in Season 1 and the other woman among Lil Fizz's many appetisers in Season 2, she is now the woman that's dating two people at the same time. However, the nice little arrangement may get unravelled in the upcoming Season 3 episode 5 "Now or Never."
As fans of the show know, Nikki has been dating new cast member Safaree, the musician who shot to fame as Nicki Minaj's boyfriend in the recent past. They have been getting pretty serious, with him even gifting her a wrist band in the previous episode. However, unbeknownst to him, Nikki is also dating a model named Rosa, who has been working with her on her Nude by Nikki line.
She has been doing a good job of hiding the both of them from each other, but it looks like her lies will be revealed in "Now or Never." It is understood that Safaree will walk in on the beautiful ladies while they are together. However, instead of getting angry, he will actually want to join in on the fun, but Rosa is definitely not going to be overjoyed by the prospect of that.
Meanwhile, A1 and Lyrica will be seen making a drastic step to finally get married to each other. As we know, their mothers dislike each other and have been making it difficult for A1 and Lyrica to plan a wedding. Therefore, they will take matters into their own hands and plan to elope.
In a promo for Season 3 episode 5 they are seen discussing their predicament with fellow couple Ray J and Princess. They finally come to the conclusion that eloping is their best option.
The official synopsis for the episode reads:
Nikki is having difficulties juggling relationships with Safaree and Rosa. Tired of all the family drama, A1 and Lyrica finally take matters into their own hands. After Shanda is confronted by Willie's mistress, she decides enough is enough.
Don't forget to watch Season 3 episode 5 of "Love and Hip Hop Hollywood" at 8 p.m. (EST) on Monday, Sept. 12. You can also watch "Now or Never" online via VH1 website.