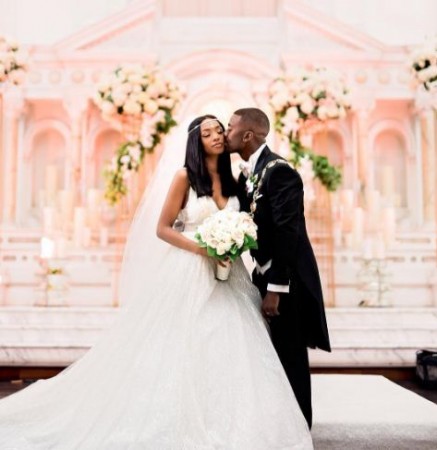 The Season 3 of "Love and Hip Hop Hollywood" premiered on Vh1 last Monday, and it was as juicy and dramatic as all fans had hoped. The drama has only begun on the show as the upcoming episode 2 is expected to see someone from Willie's past rocking the boat of his marriage with Shanda. Moreover, three new characters are yet to be introduced on the show.
In the premiere episode of "Love and Hip Hop Hollywood," fans saw Ray J's mother informing him that there is no way she would let him marry Princess unless they sign a pre-nup agreement. Although Ray J was reluctant to do it, he will pay heed to his mother and bring the issue up with Princess in "Homewreckers." Needless to say, Princess is not going to take it well.
In the promo for the upcoming episode, she is seen telling Ray J that signing a pre-nup would mean they already know that the marriage is going to end in divorce. And, if that is how Ray feels about their marriage, she wouldn't want to get married in the first place.
Also Read: Who is Coco's biggest competition in 'RuPaul's Drag Race All Stars' Season 2?
Meanwhile, Moniece Slaughter, who had demanded in episode 1 that she wants her baby daddy Lil Fizz's sperm, has given her two pence about Princess and Ray's marriage. Moniece said that she gives the marriage "two years tops," adding, "two years and a baby."
"Homewreckers" will also see Willie and Shanda, who were the embodiment of an happy family despite their financial troubles in Season 1, fighting in the upcoming episode. A woman from Willie's past claims that she is still physically intimate with Willie and even confronts the rapper. Shanda, despite her outburst of danger, seems to handle the situation quite well.
Making her return on "Love and Hip Hop Hollywood" with episode 2 is Masika, who is also the mother to Fetty Wap. She will be seen trying to get her baby daddy to co-parent their son with her. Things may take a turn for the nasty through the legal route in "Homewreckers."
Here is the official synopsis for Season 3 episode 1 titled "Homewreckers"

A woman from Willie's past rocks his marriage; Ray and Princess take on the prenup controversy; Masika deals with paternity issues; Moniece stirs up trouble.
Don't forget to watch Season 3 episode 1 of "Love and Hip Hop Hollywood" at 8 p.m. (EST) on Monday, Aug. 22. You can also watch the episode online via VH1 website.