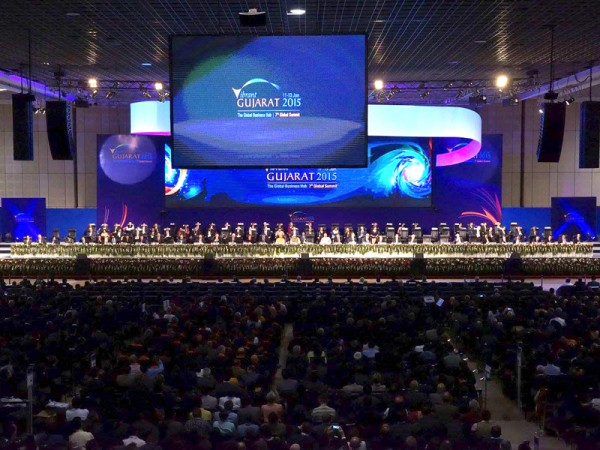 Prime Minister Narendra Modi will inaugurate the 7th Vibrant Gujarat Summit that is being attended by UN Secretary General Ban Ki-Moon and US Secretary of State John Kerry at Mahatma Mandir in Gandhinagar on Sunday.
Several ministers from Europe, Japan, Australia and Canada, and over 50 CEOs of leading Indian as well as international companies will also participate in the three-day event, PTI reported.
Eight countries comprising the US, Japan, the UK, Singapore, Australia, Netherlands, South Africa and Canada are partner nations for the Summit.
In 2003, Narendra Modi, who was then the chief minister of Gujarat, started the biennial event to promote the state as a destination for investments.
The event also gives an opportunity for other states to highlight business opportunities and promote investments in their respective states.
It is expected that Modi, as Prime Minister of India, would pitch India as a manufacturing hub to create jobs and boost economic growth.
"The brand "Vibrant Gujarat" that began as an "investors' summit" has now evolved into an ideal platform for knowledge sharing, social and business transformation," according to the website Vibrant Gujarat.
"...this Summit is an ideal convergence for other states and other countries to showcase their strengths, highlight business opportunities, facilitate knowledge dissemination etc," says the website.
Highlights
"I am excited to work with India on renewal power. India has potential to be leader in solar energy," 12th President of the World Bank and Korean American physician and anthropologist Jim Yong Kim said.
"We believe #India should be the leader in eliminating poverty; its a radical and unique opportunity over the next decade," Vibrant Gujarat 2015 tweeted.
40 Singaporean companies are participating in the Summit.
"With 40 Singaporean companies participating in @vibrantgujarat, relations between Gujarat & Singapore are set to strengthen further," state Chief Minister Anandiben Patel tweeted.
"Netherlands one of @vibrantgujarat's partner countries not only contributes to Make in Gujarat but also facilitates Research & Design in Guj," she tweeted.
"Pleased to see Polish delegation expressing keenness on partnering with Gujarat in energy, mining, agriculture processing & pharma sectors," she mentioned in another tweet.