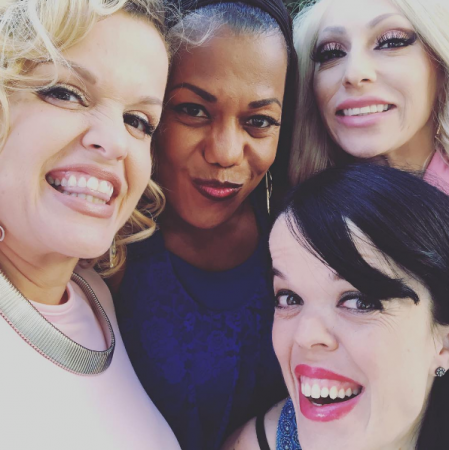 Most fans know Tonya Banks as someone who isn't open to criticism, especially when it comes from those closest to her. However, the lil boss hears just that in the latest instalment, Season 5 episode 5 of "Little Women: LA." Suffice it to say that Tonya will not be happy when she finds her friends less than encouraging.
To be sure, Season 5 episode 5 of the Lifetime reality show will open with an ecstatic Tonya, who will finally get to see her new active wear line. The mother of one will take her best friend Terra Jolé to the warehouse and although Tonya will be pleased with the logo and the overall design, Joe Gnoffo's wife will not be impressed.
Since Tonya and Terra have always been close and straight-forward, Terra will take the opportunity to tell her best friend that the logo will hurt her business prospects in the long-term. Terra will remind Tonya that no one would want to see a large logo embossed in the centre of their T-shirt.
In the promo Terra says, "What's going to make your line stand out when you go into a store? That's what I worry about. And I'm not trying to tear your brand down... I feel like before you invest so much of your money, I really feel like you need to make it your own."
However, it is this criticism that will anger Kerwin's girlfriend. Tonya will walk out of their conversation, feeling vulnerable. Tonya's frustration will result from the fact that her boyfriend and her friends are not supportive just as she's starting a new venture. In Season 5 episode 5, Tonya's anxieties will get the better of her.
"Little Women: LA" Season 5 episode 5's synopsis (via TV Guide) reads:
Elena's released from the hospital after giving birth, but her twins remain in the NICU. Later, Christy's daughter is rushed to the hospital; Terra worries about Tonya's logo for her new active-wear clothing line; and Kerwin gives Tonya an ultimatum, demanding that she cut business ties with her ex-boyfriend.
"Little Women: LA" Season 5 episode 5 airs at 9 p.m. EST on Wednesday, Aug. 10 on Lifetime. You can live-stream the episode via My Lifetime.