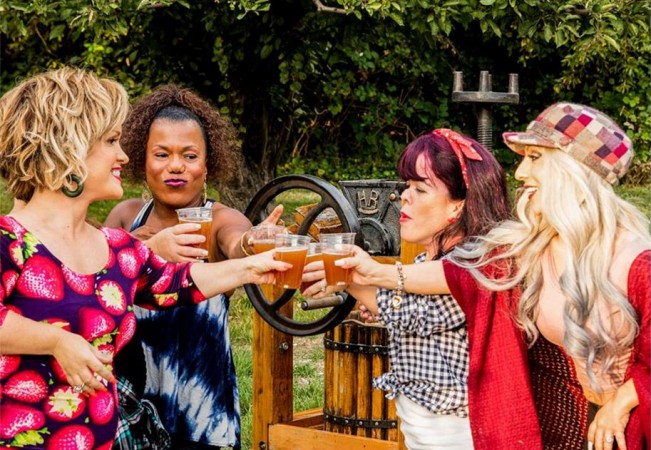 There's going to be lots of party games and drinking in the latest instalment of Lifetime's reality TV series "Little Women: LA." In Season 4 episode 8 titled "Cancun or Bust," cast members travel to Mexico to celebrate Briana Renee's last few days as a single lady.
It was only a week ago that Briana spoke about her winter wedding to Jasmine Arteaga Sorge. This information only encouraged her to throw a bachelorette party for the bride-to-be. She decided to hold the party in Mexico, which the ladies didn't look forward to, but agreed to support their friend, Briana.
[Spoiler Alert]
In Season 4 episode 8, the bachelorette party will finally be depicted. Jasmine and Christy McGinty will try their best to quell the dullness in the atmosphere but their efforts will go in vain, for a while at least.
In the promo, Terra Jolé says that she's had more fun giving her cat a shower. Her boredom is a result of Jasmine's party game, which requires guests to eat a Popsicle as fast as they can. The ladies take their own time to savour it and while they do, Jasmine passes around placards containing questions about Briana and Matt Ericson.
During the game, Tonya has to reveal some of the most endearing qualities about Matt. At this point, she thinks for a long time but her silence is not lost on Briana. In the promo, Matt's fiancée says, "Cmon Tonya don't you have one nice thing to say about Matt?"
Fans of the show will remember that Briana and Matt feared the party would sour because of the skewed group dynamics. Will there be another cold-war? Will Tonya appease Briana in the end?
Season 4 episode 8's synopsis (via TV Guide) reads:
"The ladies go to Cancún for Briana's bachelorette party; Elena struggles to keep her pregnancy a secret; and Briana becomes upset after realising Tonya and Terra still don't approve of her relationship with Matt. Later, Christy hires a stripper, causing Briana to have a meltdown."
"Little Women: LA" Season 4 episode 8 airs Wednesday, March 16 at 9 p.m. on Lifetime. You can live-stream the episode via My Lifetime.