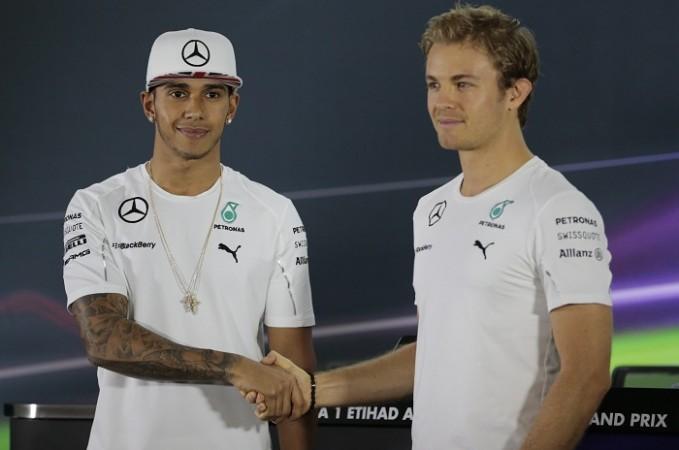 Lewis Hamilton vs Nico Rosberg -- a straight, winner-takes-all (well, not quite) Formula One car race of the highest possible stakes. Hamilton will go into the final race – the Abu Dhabi Grand Prix -- of the F1 season with the advantage – a 17-point one to be precise – with Rosberg hoping and praying his Mercedes teammate makes a mistake or two in this unprecedented double points contest at Yas Marina on Sunday.
Rosberg threw down the gauntlet to Hamilton by taking pole position at the Abu Dhabi GP, but with Hamilton starting second, Rosberg will need someone to come in between the Mercedes duo to stand any chance of winning the driver's championship title, despite the winner taking a massive 50 points.
Ideally, Hamilton should win the title, having won double the races of his nearest rival over the course of the season. But then, the question is should wins be rewarded more or consistency, because Rosberg has certainly been the latter, finishing in the podium time and again to stay right on his Mercedes teammate's coattails.
Rosberg hopes taking pole will put the pressure on Hamilton, which will in turn force a mistake or three from the Britain, who will lose his title if he finishes third and Rosberg stands on top of the podium in Abu Dhabi.
"The situation is intense, yes, but it's a great moment at the same time," said Rosberg to Formula One's official website. "I try to focus on that great moment and enjoy it, to have that opportunity.
"That is very special. I look at it this way: Lewis has everything to lose and I have everything to gain. So, for sure, the pressure is on him. That is part of my opportunity. My opportunity is to put as much pressure on him as possible -- and maybe he makes a mistake.
"We did see that in Brazil. In Brazil I tried to keep the level of pressure as high as possible and forced him to push beyond the limit."
Mind games all of them, of course, but with somebody of Hamilton's experience, a former world champion, that should not matter too much, with the only real way that the Brit will lose his title looking like if his car suffers mechanical problems and he is forced to retire.
While that fear will invariably be there in the back of his mind, positivity will be the buzzword for Hamilton, who will be the champion if he finishes second, going into the race on Sunday.
"I don't pay much attention to that at all," said Hamilton on Saturday after qualifying when asked about Rosberg's mind games. "And take today -- if I made a mistake today it would be the same amount as him.
"Nico had to do an extra lap on the actual race tyres, which hopefully will have an effect. That he is in that situation was due to a mistake. My tyres are perfect for the race.
"And overall it's been very few mistakes through the year. I am not worried about these things. Nico is sure trying everything possible in his head to come up with some kind of way of dealing with things - that's how he deals with it.
"Me -- I just keep to myself and do the talking on the track. Today I did a great job in Q3 -- and everything else I will try to make up tomorrow in the race."
Where to Watch Live
Get the report HERE
The final race of the F1 season is scheduled for a 5 pm local time (6.30 pm IST, 1 pm BST) start. Live coverage in India will be on Star Sports 4. Viewers in India and Asia can also watch the qualifying session via live streaming online on Racematelive or Starsports.com.
UK viewers can catch the Abu Dhabi GP on Sky Sports F1 or via a live stream on Sky Sports Online or Sky Go. US audience can watch the Abu Dhabi GP race live on NBC Sports or NBC Sports Live Extra. Bein Sports will provide live coverage in the Middle East and North Africa while viewers can also catch the race action via Live Streaming on Bein Sports Connect.