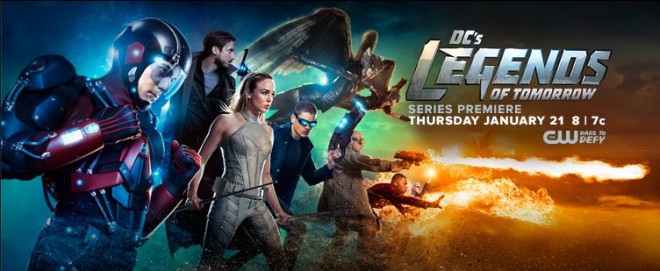 With "The Flash" and "Arrow" having gone on a break, "Legends of Tomorrow" remains the only superhero show to be aired on The CW this week. The upcoming Season 1 Episode 7 of the show will see the rag-tag team of heroes stranded in space.
As fans know, the heroes had just visited White Canary aka Sarah's (Caity Lotz) Star City in the future in Episode 6. Despite all the madness and confusion that ensued in the timeline, the Legends managed to save the two Green Arrows (Stephen Amell, Joseph David-Jones) and defeat Deathstroke (Jamie Andrew Cutler).
In the process, however, Captain Cold (Wenstworth Miller) learned that he and Heat Wave (Dominic Purcell) may not be on the same page anymore. While Mick wants to wear his fur coat, sip from his chalet and watch as the world burned down, Snart seems to have developed a soft-spot for his teammates. Snart also wants to defeat Vandal Savage (Casper Crump) before he destroys the world, which was supposed to be the missions of the Legends all along.
Also Read: Curtis Armstrong talks about 'Supernatural' and 'New Girl' in exclusive interview
In the promo for the upcoming Season 1 Episode 7, Sarah is heard saying, "Mick's in a dark place... He is not coming back." It does look like Mick has gotten a lot crazier than he usually is, with most of his teammates looking a little alarmed with his behaviour.
Towards the end of the promo, Mick is seen telling Rip (Arthur Darvill): "Only one of us is walking out of here alive," only to see that Snart is pointing his gun at him. It looks like the show is going to explore some darker territories in upcoming episode; literally.
Atom (Brandon Routh) is seen floating in space, and Rip is seen getting a distress call from a stranded timeship. And despite his teammates warning him about it being a trap, Rip decides to help them. The team was right, and they will end up fighting time pirates.
From the promo, it looks like the lady that called for help is an old friend of Rip Hunter's. He would not have risked everyone's lives in his ship despite his better judgement if he didn't know her. In the promo he is also seen kissing a woman, suggesting that it could be a scene from his past.
Watch Season 1 Episode 7 of "Legends of Tomorrow" at 8 p.m. (EST) Thursday, March 3. You can also live-stream "Marooned" via The CW Seed and CWINGO.