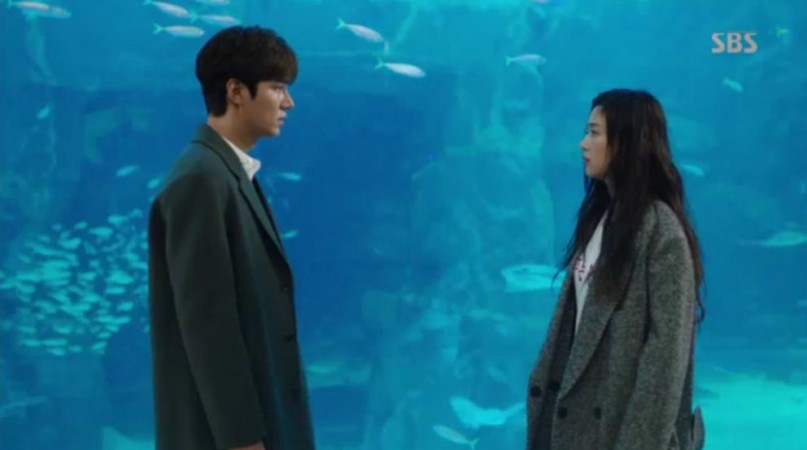 The Legend of the Blue Sea will be back with an interesting episode this Thursday, November 24, on SBS. The sequel will mark the beginning of a love triangle between Shim Chung, Heo Joon-jae and Cha Si-ah.
After erasing the memory of Lee Min Ho's character in episode 3, the mermaid finds it difficult to forget him and travels to Seoul in search of her human friend. In the meantime, the conman tries hard to recollect the series of events in Spain and the real owner of the jade bracelet. The sequel ends by featuring a reunion of the onscreen couple at an aquarium.
In the official trailer for the new episode, the male lead asks Jun Ji-hyun's character, "Who are you? Do you know me? You know me. You even know my name." She does not reply, but follows him everywhere and he finally allows her to hold his hands. He even takes her to his house.
While Jo Nam-doo and Tae-O will be amused with the strange antics of Shim Chung, Cha Si-ah will quietly watch her as she acts as Heo Joon-jae's wife. Is she jealous of the mermaid? Will she find out the true identity of the mermaid and sell her to a trafficker?
Speculations suggest that the onscreen couple will fight over the jade bracelet, prompting the fellow conman and the university researcher to question its origin.
Click here to watch the mini-series online via live stream at 10pm Korean time. The fourth episode will also be available live online here for fans across the globe.
Watch the trailer for The Legend of the Blue Sea episode 4 below: