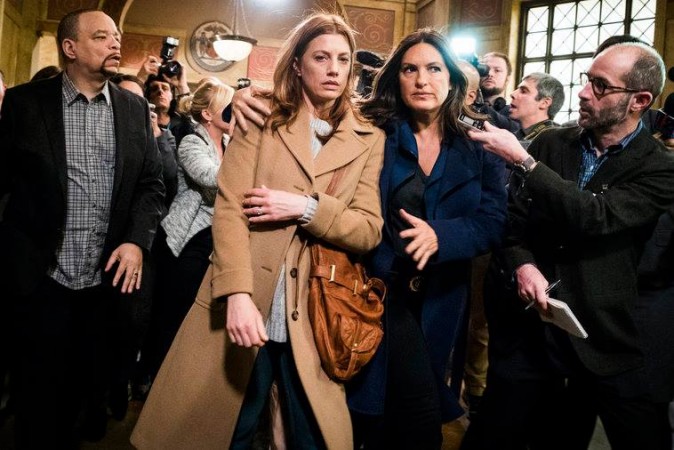 Lt. Benson (Mariska Hargitay) and her team will hunt down a paedophile gang that is terrorising the city of New York in latest episode titled "Collateral Damages" of NBC's "Law & Order: Special Victims Unit."
According to Carter Matt, Special Victims Unit will go on an undercover operation to arrest the people who are marketing the innocent children through various social media websites.
However, the situation becomes worse as the sting reveals that two high-profile personalities are indulged in the crime. As suggested by the promo, one of the members of SVU will also get involved in a wrong way once the mastermind behind the entire child-marketing operation will be revealed.
Agent Carisi (Peter Scanavino) and Rollins (Kelli Giddish) can be seen in the promo leading the SVU to a safe house where the paedophile gang is operating. When they barge into the room, they find people using computers.
However, soon the media gets the wind of the news and a woman can be seen who is interrogated as her husband has been a paedophile suspect. In the second half of the trailer, Rollins is looking shocked as she has found something on one of the computers.
Benson questions her squad whether they are hiding anything from her or not as Carisi angrily tells them that someone from the squad is selling child pornography.
Someone from SVU is indeed the culprit and based on SVU's past cases, it is going to be someone who is least expected. Benson is already worried about the fewer agents in her team and it seems that she will end up losing yet another valuable member.
To watch who is the culprit and why he/she gets involved in such a disgusting crime, CLICK HERE.
"Law & Order: SVU" Season 17 Episode 15 will air on NBC on Feb. 17.