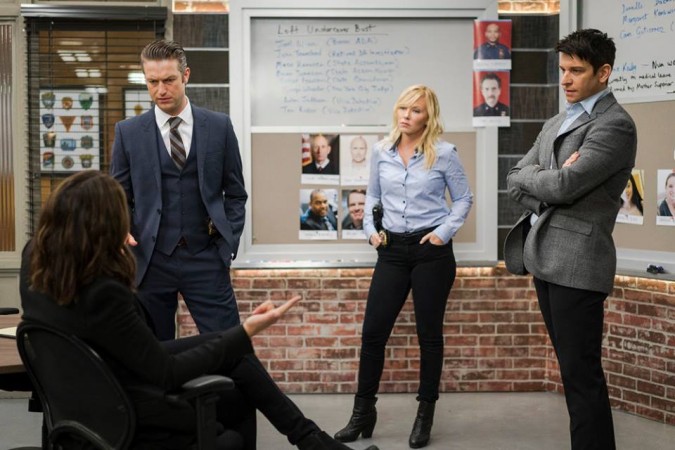 In the upcoming episode titled "Manhattan Transfer" of "Law & Order: Special Victims Unit," it seems that after a series of unfortunate events, Lieutenant Olivia Benson and her other team members will lost their jobs and the Special Victims Unit (SVU) will be dismantled.
According to Carter Matt, SVU's new case will be investigation of a shadowy sexual exploitation business of minors, especially of young girls. Most of the victims are underage Catholic schoolgirls who have been deceived and trapped for sale to highest bidder.
Determined to find the roots of the case, when Benson's team start their investigation, they are shocked to find out that several respectable citizens of the city are also indulged in it.
In the promo of the episode, the members of SVU can be seen observing the feeds from different hidden cameras projected on a screen. Benson notices with a shock that there was a familiar face in the crowd of bidders that had gathered to trade in young girls.
Soon, she realises that several top-notch officials and government officers were present in the meeting. Even members of the New York Police Department (NYPD) were seen to be attending the meeting in the camera footage.
Benson is under a grave dilemma; if she files charge against these people, she will make powerful enemies who have lots of influence in the city. Besides, she will also jeopardise the career of her team members as all of them will surely be fired from their work and their families will have to suffer with them.
If Benson decides to arrest the suspects, it is surely going to cost her as in the promo, when an attorney, who was present in the meeting, approaches her and tells her to keep his name out of the scandal, Benson firmly refuses to do it, which makes the attorney angry on her.
In the last scene of the promo, Benson can be seen clearing her office desk as she puts all her belongings in a cardboard box. Though it has not been revealed yet, it seems that Benson and rest of the SVU team will be dismantled. To watch what exactly happens in the upcoming episode titled "Manhattan Transfer" CLICK HERE.