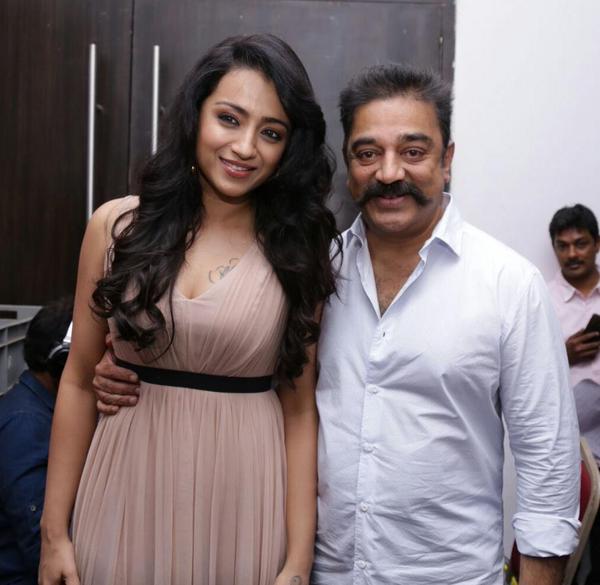 The much-awaited audio of Kamal Haasan's "Thoongavanam" was released along with its second trailer on Wednesday, 7 October, at Sathyam Cinemas.
The event was graced by who's who of Kollywood. Dhanush, Vishal Krishna, Gautham Menon, Vairamuthu, Ghibran, Shruti Haasan, Trisha, Madhu Shalini, Sampath, Crazy Mohan, director Ameer, Suka, Niveda Thomas and others.
Trailer Release
The second trailer was also played at the audio release function for the guests and subsequently, it was released on YouTube. It is a racy video that gives a complete picture of what the moving will offer to the audience.
Kamal Haasan steals the show even though Prakash Raj, Trisha Krishnan, Kishore and Sampath Raj hog the limelight.
Interestingly, the music release function was aired live on YouTube -- a rare occasion in Kollywood -- where cine function are aired on TV channels much long after the functions are held. Below, you can watch the event live:
Ulaganayagan & @dhanushkraja @ Ulaganayagan's #Thoongavanam Audio Launch pic.twitter.com/X6hki8yxOr

— Nikkil Murugan (@onlynikil) October 7, 2015
#myclick handsome thalaivar #Thoongavanam audio launch pic.twitter.com/axOCKI6B33 — Kamal Devarajan (@KamalSDK) October 7, 2015
Ulaganayagan & @trishtrashers @ Ulaganayagan's #Thoongavanam Audio Launch pic.twitter.com/KcR0XR1fvt — Nikkil Murugan (@onlynikil) October 7, 2015
Director Vijay @ Ulaganayagan's #Thoongavanam Audio Launch pic.twitter.com/ayQtKVUNNa

— Nikkil Murugan (@onlynikil) October 7, 2015
Actress @shrutihaasan @ Ulaganayagan's #Thoongavanam Audio Launch pic.twitter.com/XPS627GgJX — Nikkil Murugan (@onlynikil) October 7, 2015
Actor @VishalKOfficial @ Ulaganayagan's #Thoongavanam Audio Launch pic.twitter.com/Kzpi8UxrHP

— Nikkil Murugan (@onlynikil) October 7, 2015
Director @menongautham @ Ulaganayagan's #Thoongavanam Audio Launch pic.twitter.com/2bdEF7ID8o — Nikkil Murugan (@onlynikil) October 7, 2015
Actor @dhanushkraja @ Ulaganayagan's #Thoongavanam Audio Launch pic.twitter.com/OJRCWMMjFO

— Nikkil Murugan (@onlynikil) October 7, 2015
Kaviperarasu @vairamuthu @ Ulaganayagan's #Thoongavanam Audio Launch pic.twitter.com/ebxoYDIIbo — Nikkil Murugan (@onlynikil) October 7, 2015