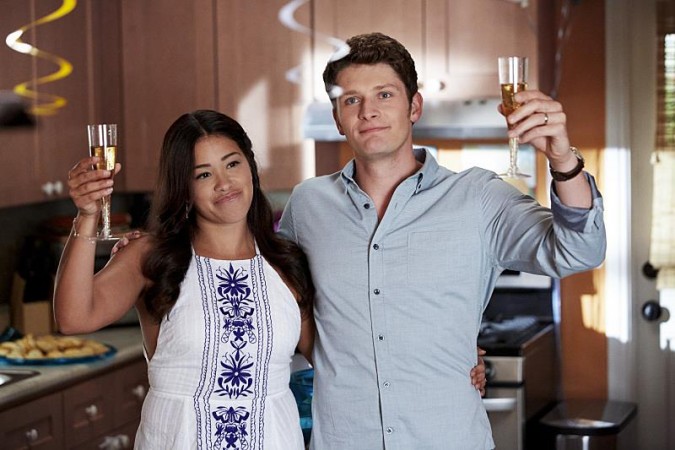 Jane The Virgin season 3 returns with episode 6 this Monday, November 21, at 9pm EST on The CW network. The sequel is titled as Chapter Fifty and subtitled as A Surprising Turn.
The official synopsis states that Jane Gloriana Villanueva's cousin will unexpectedly visit her and it will force her to question her own less than spontaneous life. In the official trailer, she complains to Michael Cordero about Rafael Solano being close to her cousin.
The promo shows Gina Rodriguez's character telling her husband that Mateo's father is hitting on her cousin. Understanding the worries of his wife, the detective tries to comfort her by saying that her cousin is definitely hot and good looking like her. It makes Jane jealous and becomes sceptical about him. However, the detective seems to be more excited about going back to work after the team gets to take a break in the Mutter case.
In the meantime, Xiomara a.k.a Xo will find the perfect location for her dance studio, but it happens to be near her ex-boyfriend, Bruce. Things will turn for the worst after the famous telenovela star Rogelio de la Vega will realise his feelings for Andrea Navedo's character and struggles to tell her.
Click here to watch Jane The Virgin season 3 episode 6 live online. Chapter Fifty will also be available online here. Watch the trailer below:
Check out the official synopsis for Jane The Virgin season 3 episode 7, titled Chapter Fifty-One, below:
When Alba (Ivonne Coll) makes Jane (Gina Rodriguez) feel guilty for not attending church, Jane decides she wants to bring Mateo against Rafael's (Justin Baldoni) wishes. Rafael unlocks a long lost memory of him and his mother, which could be a clue in the Mutter case. Rogelio (Jamie Camil) hires a matchmaker to help him get over Xo (Andrea Navedo.) Meanwhile, Jane's cousin is starting to wear out her welcome.