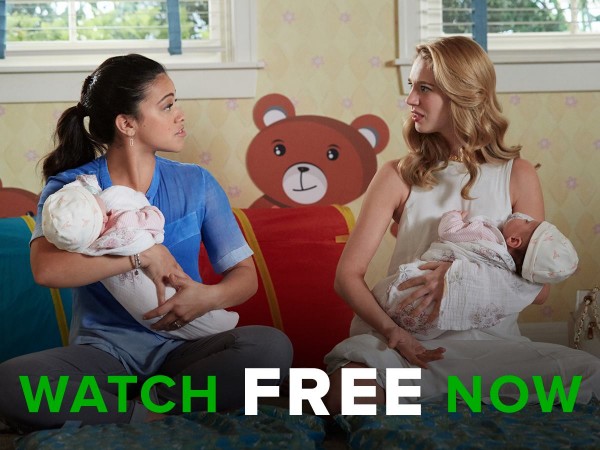 The relationship between Jane Gloriana Villanueva and Petra Solano might take a turn for the worst in Jane The Virgin season 3 episode 5. The sequel is titled Chapter Forty-Nine and it will be aired this Monday, November 14, at 9 pm EST on The CW.
The episode, which is sub-titled as Trust Issues, will focus on the bromance between Rafael Solano and Michael Cordero. In the trailer, the two are seen spending quality time with each other at the Marbella gym. The clip has even teased a man date and showed them sharing the details about their likes and dislikes with each other.
Along with the viewers, Gina Rodriguez's character will be happy to watch her husband and her baby daddy creating a civil friendship. But the official synopsis indicated that things will take a turn for the worst after a while.
The short summary for the next episode even hinted at troubled moments for Petra's twin sister Anezka. In episode 4, the viewers already saw the title character becoming suspicious about her strange behaviour and telling Mateo's father about it. The upcoming episode will show him getting suspicious about his baby mother.
For Xo and her mother, it is time to deal with some family problems. Alba will have to make sure that her granddaughter does not reach out to her family after reading the letters from her estranged sister. Click here to watch episode 5 live online. Chapter Forty-Nine will also be available online here.
Check out the official synopsis for Jane The Virgin season 3 episode 6, titled Chapter Fifty, below:
When Jane's cousin unexpectedly shows up at her door, Jane questions her own less than spontaneous life. Xo finds the perfect location for her dance studio, but it happens to be near her ex-boyfriend, Bruce. Rogelio realizes his feelings for Xo, but struggles with telling her. Petra is served with a lawsuit and she decides to ask Rafael for help. Meanwhile, Michael is ready to get to work just as they get a break in the Mutter case.