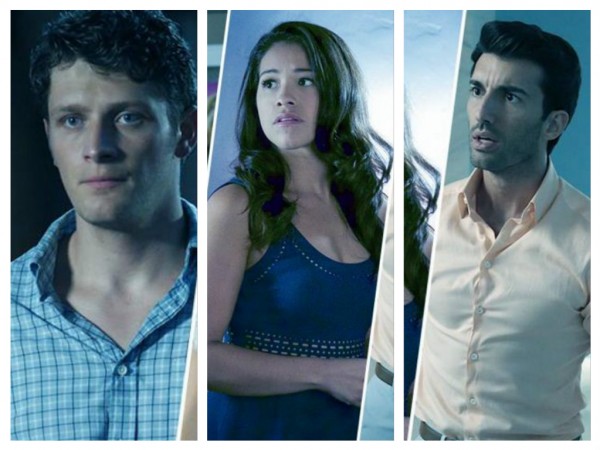 "Jane The Virgin" Season 2 is leaving no stone unturned in showing all the drama happening in Jane's life. From relationships to motherhood, and now, the wedding, it seems like Jane still has a very long way to go, dealing with all those confused situations in her life.
CLICK HERE to watch "Jane the Virgin" Season 2 episode 16, titled "Chapter Thirty-Eight," live.
In episode 15, we saw Jane struggling to impress Michael's parents and also how she was having trouble with her new adviser, who was critical about her writing. The episode titled "Chapter Thirty-Seven" also showed that Jane and Xo discovered that "The Curse of Pablo" was actually true after Pablo and Alba go on a date. While having their romantic dinner, the pipe in their home suddenly ruptured, causing a huge flood inside the Villanueva house.
In episode 16 we will see whole lot of drama revolving around Jane and Michael wedding, and how it will all just get worse due this sudden flood in Jane's house. The wedding plans will get washed out and delayed and Jane clearly is not very happy about it.
According to the synopsis of "Chapter Thirty-Eight," Jane, who is looking forward to having a small and private wedding ceremony, will have a clash with her father Rogelio, regarding the guests to be invited. Rogelio is a celebrity and wants to invite his celebrity friends as guests and wants to plan a star-studded big bash, which Jane doesn't approve off.
The promo of the upcoming episode shows Jane telling Michael that she will not let anyone whom she doesn't know attend the wedding. The clip also shows Rafael's ex-wife and new-mother of his twin daughters, Petra, struggling with motherhood and how Jane will be helping her through this. It also reveals that Jane will move away from Rafael, after she plans to rent a house 45 minutes away from his. And Rafael is not happy with this idea of living away from his son Mateo.
Now, will this create problems between Rafael-Jane-Michael equation all over again? We will have to wait and watch.
The plot synopsis for "Chapter Thirty-Eight" (via TV Guide) reads: "A flood hits Jane's home, disrupting her wedding plans with Michael. Meanwhile, Jane and her dad clash over how big a wedding she should have; Rafael objects to Jane moving 45 minutes away with Mateo; and Petra continues to struggle with motherhood."
"Jane The Virgin" Season 2 episode 16, titled "Chapter Thirty-Eight", will be aired Monday, March 28, at 9 p.m. on The CW.