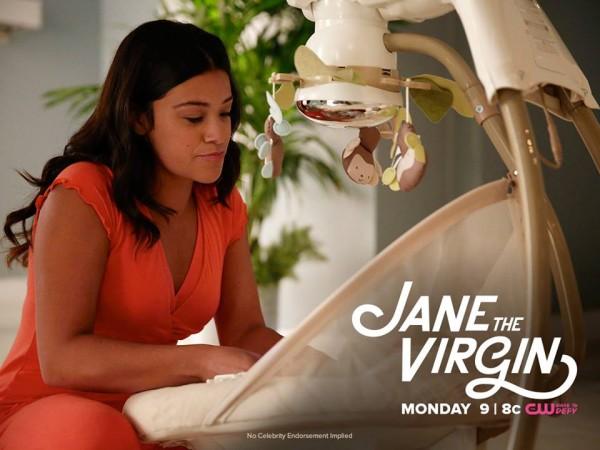 "Jane the Virgin" Season 2 is getting very interesting. The focus has shifted from pregnant virgin Jane to raising baby Mateo. Fans have, in the process, been getting to watch a lot of drama, confusion and comedy in Jane's life.
CLICK HERE to watch "Jane the Virgin" Season 2 Episode 8, titled "Chapter Thirty-Two", live. And CLICK HERE to watch it later online.
In Episode 10, we saw Jane's friends finally convinced her to go back to the dating scene. Jane now definitely has love and romance on her mind, but in "Chapter Thirty-Two," things don't quite work out in her favour.
After her friend set up a dating profile for Jane online, she convinces her to go meet new men and explore the dating scene. At first, Jane gets angry, but later decides to give online dating a shot. Her experience doesn't go well and at the end of it, she realises casual dating is not her cup of tea. She is convinced she is looking for something more serious and is more of a "relationship girl" of sorts.
In Episode 11, fans will witness a lot of proposal confusion, Rose revelations and Jane's naughty dreams. Going by the synopsis of the episode, it looks like Jane will have naughty dreams about Professor Chavez, which will make her wonder if she has real feelings for him. And while Jane is wondering why she has been getting these dreams, she assures herself it's just her imagination. But, Jane's imagination seems to be turning into reality, as in the promo clip, she is seen accidentally kissing her professor's sweater.
Meanwhile, even a marriage proposal makes its way to "Chapter Thirty-Three", with Rogelio all set to propose to Xo. But his proposal will undergo a lot of confusion with baby Mateo swallowing the engagement ring.
It is also expected that Michael will have a revelation about about Rose and Mutter.
The synopsis of Season 2 Episode 11, "Chapter Thirty-Three", (via TV.com) reads: "Rogelio plans to propose to Xo, but Mateo swallows the ring he was going to use. Meanwhile, Jane dreams about Prof Chavez, leading her to wonder how she truly feels about him; and Michael has a realisation regarding Rose and Mutter."
"Jane The Virgin" Season 2 Episode 11, titled "Chapter Thirty-Three", will be aired on Monday, 8 February, at 9 p.m. on The CW.