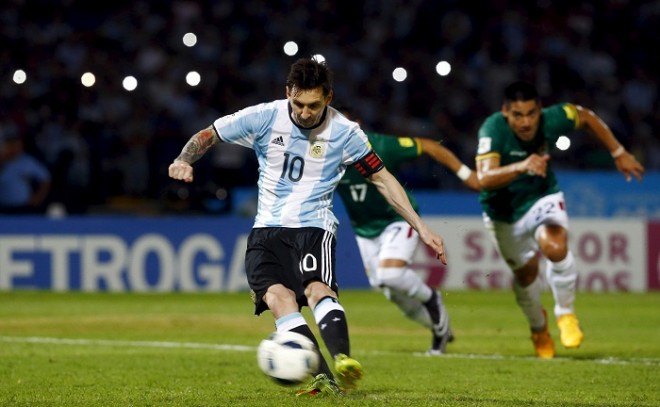 Argentina, one of the heavyweights of world football, have their eyes set on the upcoming 45th edition of the Copa America, and are preparing for the mega competition, which starts next week. Before they head over to the U.S. for the Copa America, they have one friendly match coming up against Honduras in San Juan on Friday.
With Argentina possessing some of the best players in the world, all the focus will be on their star players, including Lionel Messi and Gonzalo Higuain. With this match being Argentina's only friendly before the Copa America, they could play with a strong team, and get their combinations right as they prepare for their first Copa America game against Chile on June 6.
Both the forwards -- Messi and Higuain -- have been phenomenal for their respective clubs, and they will want to carry on that goal-scoring form for Argentina as well. Higuain, who will be keen to impress against Hondarus, believes wearing the Argentina jersey always motivates him.
''The Copa America's going to be tough, but we intend on winning it. I will bring my best to achieve it. My mind is focused on the Copa America. When you come to the national team, your head has to be in it 100 per cent. We have a great team to win the Copa America. When one's head is in a right place, everything else comes along. This year I had the confidence, which I didn't have previously,'' ESPN quoted Higuain as saying.
''Every player who comes to the national team has the pressure of not winning titles. We also have pressure at our clubs as well. The big number of matches in the season are felt, but wearing the Argentina shirt is a great motivator.''
Though Argentina are expected to field a quality side, they might not risk players, who are not fully fit, including Javier Pastore and Ezequiel Lavezzi.
Honduras, on the other hand, have a mighty task ahead of them, facing the likes of Messi and co. Their defenders need to be on top of their toes as the game might be played in their half primarily. Honduras will be preparing for the CONCACAF World Cup qualifiers, which shall be played later in the year.
Though Honduras are second favourites to clinch a win against Argentina, they have come up with decent performances against teams like Brazil, when they met last time, which should help them inspire for a good outing on Friday.
Honduras coach Jorge Luis Pinto wants his team to play well against Argentina.
"What we are least thinking about is coming home with a thrashing. This team has put in great performances against big national teams like Brazil, Mexico and United States... we will put in a great game," Soccerway quoted Pinto as saying.
Where to watch live
Argentina vs Honduras is set to begin at 8p.m. local time (4:30 a.m. IST, 12 a.m. BST, 7p.m. ET). There is no live coverage on TV or online in India and the UK.
The international friendly can be watched live by viewers in the US on ESPN3, with the live stream option on Watch ESPN.
Viewers in Argentina can catch watch their national team live on TYC Sports.
African viewers can watch Argentina vs Honduras live on SuperSport 3 Africa