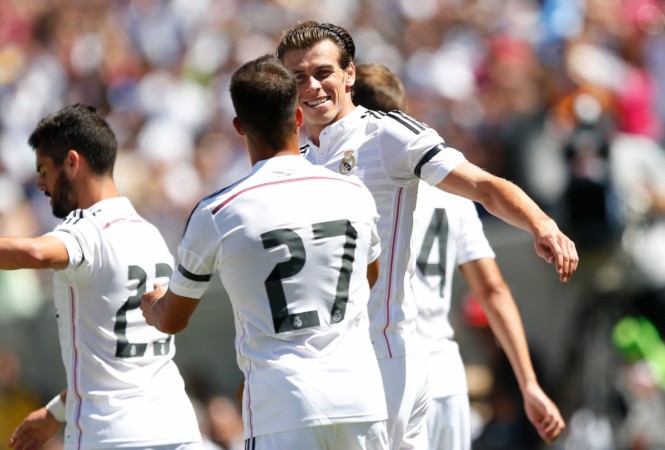 European Champions Real Madrid come face to face with Italian giants Roma in the two sides' second International Champions Cup fixture at the Cotton Bowl in Dallas on Tuesday.
Although this match is only a friendly, both sides will be looking to get a positive result in order to assert their dominance.
After suffering a defeat in their first International Champions Cup fixture at the hands of another Italian side Inter Milan (in a penalty shootout), Carlo Ancelotti's men will be looking to get back to winning ways.
However, they will need to put in a much better performance if they want to do well against Roma, who are in quite a run at the moment.
Apart from the performance of Gareth Bale, who was simply brilliant as he scored a stunning long range goal in the first half, the Los Blancos were relatively poor.
The momentum began to shift in Inter Milan's favour as soon as the Welshman came off in the second half.
Real Madrid's poor performance against Inter Milan was probably due to fact that Ancelotti fielded a relatively weak side consisting of Real Madrid Castilla players, in the absence of their regular players, who were on extended vacations following their participation in the 2014 World Cup.
Still, Ancelotti felt that his young side put up a good performance despite the defeat.
"I am satisfied with how the younger players performed because some of them showed some real character. We are working day-to-day and today I gave minutes to those that needed them," Ancelotti told Real Madrid official website.
However, things will certainly be different against Roma as Real Madrid will be bolstered by the return of Cristiano Ronaldo, Iker Casillas, Sergio Ramos and Luka Modric.
Roma, on the other hand, have been enjoying a sound preseason, winning two out of three games.
After successive wins over Indonesia U-23 (3-1) and Liverpool (1-0), Roma suffered a narrow 3-2 defeat against Manchester United in Denver.
Although Roma, who finished in second place in the Serie A last season, trailed 0-3 in the break, they played well to pull back two goals through Miralem Pjanic and Francesco Totti (penalty).
However, in the end, they fell short, and Roma boss Rudi Garcia felt that Roma's failure to get their shots on target cost them the match.
"It was a shame to go into the break 3-0 down. We need to be sharper, because if 2-0 down at halftime we could well have won," he said.
"The result was excessive but at the end of the day they won and deserved it. The difference was in their efficiency, as Manchester United had 50 percent more shots on target."
Still, the Italian side will be hoping to put a better performance against Real Madrid despite knowing it will be a tough task, now that Ronaldo and the other star players are back.
Where to Watch Live:
The match between Real Madrid and AS Roma is set to kick-off on 29 June at 9:30 PM EDT (2:30 am BST and 7:00 am IST), and will be telecasted by Sony Six in India. Viewers in USA can catch the live action on Fox Soccer and ESPN Deportes, with the option tolive stream HERE and HERE. If you are in the Middle East and North Africa you can catch the match HERE.