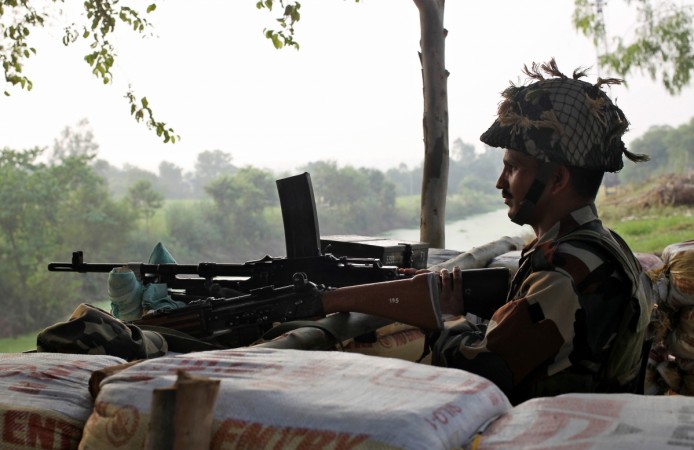 Indian Army is conducting "punitive strikes" across the Line of Control (LoC) between it and Pakistan, ostensibly in response to continued ceasefire violations along the border by the neighbouring country in the past few weeks. This is the second strike of its kind by the Army within a year, the first being the September 2016 surgical strikes that destroyed several terror hideouts on the Pakistani side of the LoC.
The more recent action seems to be coming after Arun Jaitley, who currently holds the charge of Union defence minister, assured the kin of soldiers killed in ceasefire violations and terrorist attacks that the Army would retaliate in kind, and said they had to have faith in the armed forces.
Strong Indian Army action
Speaking on Tuesday, May 22, about the Indian Army action, Major General Ashok Narula told reporters: "As part of our counter-terrorism operations, punitive fire assaults are being undertaken across the Line of Control." He added: "Indian Army proactively dominates the LoC. We want peace and tranquility in Jammu and Kashmir."
The Army official expressed concern over Pakistani aid to infiltrators. He said: "Pakistan Army has been providing support to armed infiltrators. We fear an uptick in infiltration attempts as the snow melts and passes [on the mountains and valleys] open up."
Narula also said: "A recent action by our troops in the Naushera Sector has caused some damage to the Pakistani Army posts, which are supporting infiltrations. This is part of our overall strategy to counter terrorism."
The Army action reportedly took place on May 9. The weapons used in the assault were rocket launchers, anti-tank guided missiles, automated grenade launchers and recoilless guns, Army sources told ANI.
Mixed political reactions
The strikes yielded positive political reactions from parties that have been highly critical of the BJP of recent. Congress spokesperson Randeep Singh Surgewala told ANI: "We salute the valour and courage of Indian Army for destroying Pakistani posts which were abetting infiltrators from Pakistan."
Arvind Sawant of the Shiv Sena said of the strikes: "Better late than never. Now they should think of going to Lahore and unfurling the Tricolour." His party colleague Sanjay Raut, however, had a different opinion. "I do not consider this a strong reply. But sure, there was some action," he said.
Watch video of India Army destroying Pakistani bunkers: