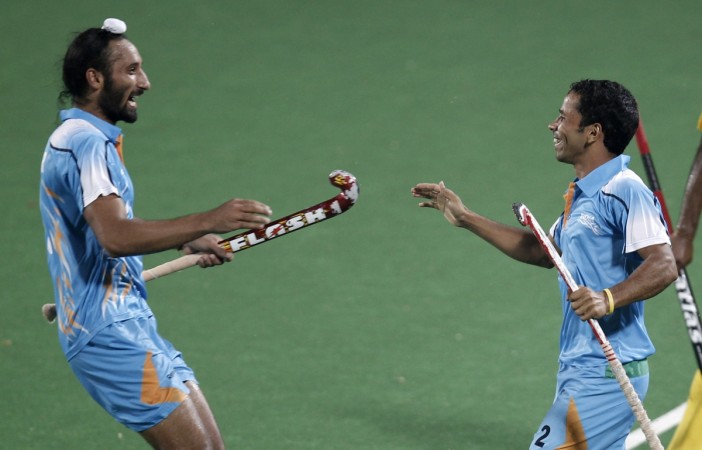 After an impressive performance against Australia in the first Test, which ended in a thrilling 2-2 draw, the India hockey team will have a spring in their stride when they face the Aussies during the second Test at Sardar Vallabh Bhai Patel International Stadium in Raipur on Sunday.
There were plenty of positives during the first Test on the offensive end for India. However, their performance in their own half was a major concern. India made a number of errors in the defensive end, which also paved the way for Australia's first goal in Rajnandgaon, Chhattisgarh, on Thursday.
Apart from such errors, India, who have made it a habit to crumble when the going gets tough, were put to a stern test in the dying minutes of the game as Australia equalised. After the scores were level, India panicked and Australia came close to clinching the first Test.
Such issues were addressed after the game by India's coach Roelant Oltmans.
"It was a good game, but the last minute encroachment by the opponents into our area only exposed the areas we still need to take control of. We have addressed the concern areas and our hopeful of a better show tomorrow," Hockey India quoted Oltmans as saying.
India cannot afford to repeat their mistakes in the second Test match against Australia, who did not come up with their A-game. The number one team in the world has plenty of players in their squad to make the Indian players sweat it out in the middle.
Despite Australia being the best team in the world, India dominated the game in the first three quarters, and with V R Raghuntah in good goal-scoring form, the home team will be eager to put up an even better performance in Raipur.
The crowd turned out in huge numbers to support India at Rajnandgaon in the first match, and with Raipur set to get its first taste of an international hockey match, fans are expected to provide a great atmosphere and support the home team.
"The crowd support has been tremendous, and with such terrific support, we are charged to give it our best and not disappoint our fans," said Oltmans.
The team that emerges triumphant in the second Test match will be confident of clinching the three-match Test series on Monday when the third and final match of the series is set to be played.
Where to watch live
India vs Australia 1st Test match is scheduled for 7 pm IST. Star Sports 1/HD will provide the live TV coverage in India, with live streaming option on starsports.com