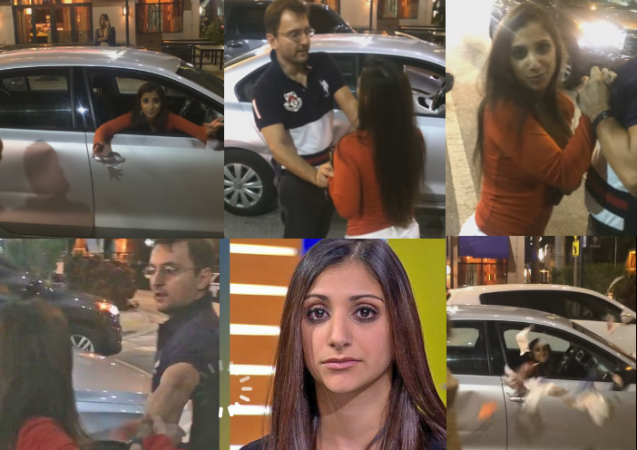 A few days ago, a South Florida doctor was caught on camera abusing and attacking an Uber driver physically and verbally in the Brickell area in Miami, US. The video of drunk Anjali Ramkissoon, 30, had gone viral on social media with more than 5.6 million users viewing after it was uploaded on YouTube by Juan Cinco.
In the viral video, apart from abusing the Uber driver, Anjali is also seen destroying his iPhone and documents. However, feeling ashamed of the incident, Anjali has now come forward apologising for her mistake on the show, Good Morning America on ABC, and calling it as one of the worst days in her life.
When asked on her response on the viral video, she said "I see a person that is not me, I am ashamed, I still can't watch the entire video. A lot happened that day, the events leading up to that point, my father had been placed in the hospital and just minutes prior to that altercations with the Uber driver, my boyfriend and I just broken up, so he went home and I was there by myself, and I knew that I had few drinks so, I decided not to drive home that day, that's why I was trying to get Uber to get home."
She had also apologised to the driver, paid for the damages she made and said she was grateful towards him for not pressing any charges against her.
"There is absolutely no excuse for my actions, I am ashamed, I am so sorry. I have heard so many people with thgis, my family, my friends, my job, The Uber driver, nobody deserves to be treated that way. We actually settled while we were out there, I paid for the damages and I apologised to him and he accepted my apology and I am so thankful that he did not press any charges. I am grateful," Anjali adds.
Meanwhile, after the video went viral, she was bombarded with nasty comments on social media, following which the fourth-year neurology resident, working at the Jackson Health System, was also removed from all clinical duties.
"Anjali Ramkissoon, a fourth-year neurology resident employed by Jackson Health System, has been placed on administrative leave, effective immediately, and removed from all clinical duties. Jackson has launched an internal investigation. The outcome of the investigation will determine if any disciplinary action will be taken, up to and including termination," read the statement by Jackson Health System.
She has also requested everyone to accept her apology and to use her story as a lesson to be careful of what people do in public.
Watch Anjali's video in which she apologises for attacking Uber driver here: