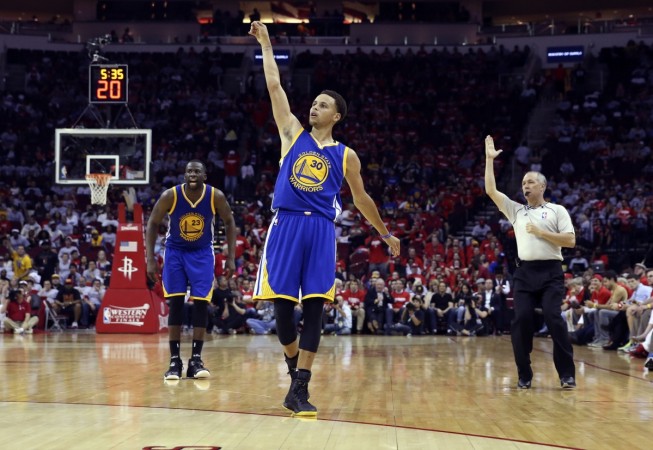 Stephen Curry put up an amazing display in game 3 of the Western Conference playoffs final at Toyota Center in Texas, scoring 40 points. It was his performance, which helped Warriors thrash Houston Rockets 115-80 to take a commanding 3-0 lead in the best of seven series.
With this victory, the Warriors are just a win away from the prestigious NBA finals berth.
The Warriors outplayed the Rockets in all quarters of the game as they started the game in bright fashion taking 30-18 lead in the first quarter, after which there was no looking back for the Warriors, who played one of their best games in the series.
When the series started all eyes were on Rockets' James Harden and Warriors' Curry, but it is the latter, who has taken the series by storm, proving he is one of the best NBA players. Stephen Curry looked sharp right from the start as he began to drill three pointers for fun. Curry scored 21 points from three pointers alone in game 3.
This has been Curry's story so far in the season and even overtook Reggie Miller for the most three pointers in the post season. In the current form, it is going to be a herculean task for any team to stop Curry from drilling those three pointers.
James Harden has also been decent in the series, but he has not been able to match Curry's standards, as the MVP has come up with a great game in each and every game.
In game 3, it was James Harden, who had top-scored with 17 points, but the Rockets star did not look at his menacing best, which also led to their downfall. He only made three field goals from 16 attempts and it was indeed a night to forget for the player.
But, to be fair, the Rockets have not been too bad in the series, as the score (3-0) suggests. The Rockets had their chances of winning game 1 and 2. They blew it away, while the Warriors always looked formidable and never missed their chance either in defence or offence.
The first two games of the series might have been a close one, but the Warriors did not even get a sniff of victory in game 3. So, when these two teams clash for game 4, the Warriors will be favourites to clean sweep the series and clinch their finals berth.
The winner of Rockets-Warriors series will play the triumphant team from the other Conference finals between Cleveland Cavaliers and Atlanta Hawks, where the Cavs lead 2-0.
Click here to watch Rockets-Warriors game 3 highlights.