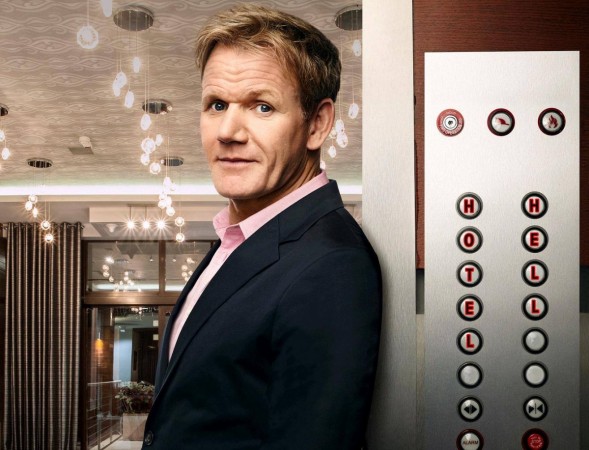 Chef Gordon Ramsay is manna from heaven for inns, cafes and restaurants that are desperately in need of help. And week after week, it is oddly satisfying to watch him reinvent and refurbish fledgling businesses. However, it looks like he will meet the toughest cafe owner yet in this week's instalment of "Hotel Hell." In Season 3 episode 5 titled "Lakeview Hotel," chef Ramsay will be lost for words when his advice isn't even considered.
In the upcoming episode of FOX's reality TV show, chef Ramsay will travel to Washington to help Lakeview Hotel, which is described as "Lake Chelan's only Luxury Hotel" in its website. But why does a hotel that boasts of lavishness and comfort need chef Ramsay's help? It is mainly because the owners haven't paid enough attention to the hotel's restaurant. According to the summary (via TV Guide), Lakeview Hotel's ice-cream parlour suffers from a lack of support from the local community. And chef Ramsay quickly finds out why: the owner is a know-it-all.
As the "Hell's Kitchen" star tries to figure out what's wrong with the food, he is confronted by the owner who, in the promo says, "There's no such thing as a fresh burger."
But chef Ramsay doesn't give up either. The "MasterChef" judge is seen having a brutally honest conversation with the owner. "All you've done is lie to me," chef Ramsay alleges, but the owner vehemently denies doing so in the promo.
Later on, chef Ramsay is seen describing the owner as "passive aggressive, condescending, inappropriate and stubborn." Will he able to get through to a person with so many personality problems? Or will Chef Ramsay give up, like he did with the owners of Amy's Baking Company?
"Hotel Hell" Season 3 episode 5 airs at 8 p.m. EST on Tuesday, June 21, on FOX. You can live-stream the episode via FOX NOW.