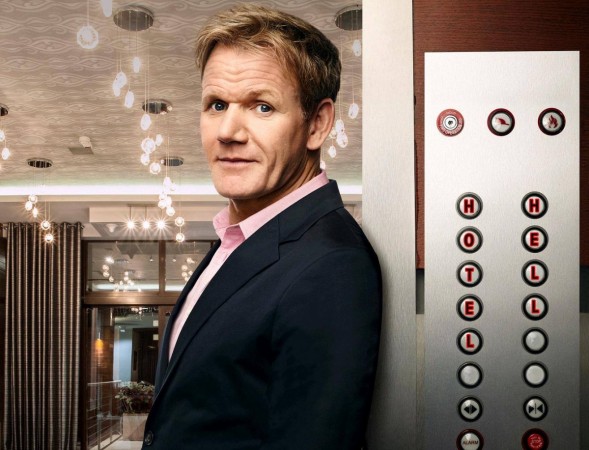 Gordon Ramsay is back with an ambition to give old inns a makeover. This objective takes him to Harpers Ferry, West Virginia, where he will meet an eccentric innkeeper. The latest instalment of Ramsay's "Hotel Hell," Season 3 episode 3, depicts the Michelin star chef's bizarre experience at an inn, which takes him back to the 1800s. Not literally, though.
In the upcoming episode of FOX's reality TV show, Ramsay meets Karan Townsend, who owns Town's Inn, built in 1840. The lodging place, which consists of two buildings -- Heritage and Mountain House -- stands as a reminder of an era gone by.
This old world charm is perhaps alluring to some, but the TV show host discovers that the inn is very old-fashioned and out of place in the 21st century.
When Ramsay is shown his room, Townsend tells him that the wardrobe is off limits. This strange rule impels the Chef to ask more questions. Finally, Townsend says that she stores her clothes in Ramsay's wardrobe.
"It's very inconvenient when there are people here and I can't get to my clothes, but I live with it," she says in the promo.
A shocked Ramsay later asks where he is supposed to hang his clothes and she points to a number of hooks. "It's back to 1840," she says.
In the upcoming episode, Chef Ramsay finds more problems at the inn when he dines at the restaurant. As is usual, the TV personality finds his way to the kitchen and points to a number of practises that are wrong.
"I'm amazed you're not shut down," he is seen saying in the preview clip for Season 3 episode 3.
Ramsay's experience in Town's Inn will be documented in a two part series, which will focus on how the decrepit building is run like a "second hand store." The summary states that Ramsay will experience a difficult time with Townsend, who "hoards personal items throughout the establishment."
"Hotel Hell" airs at 8 p.m. EST on Tuesday, June 7 on FOX. You can live-stream the episode via FOX NOW.