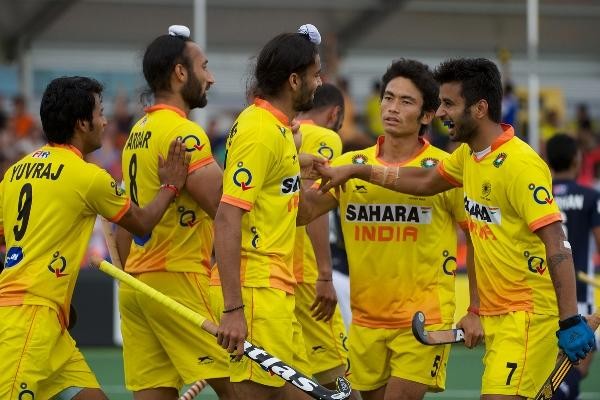 India might have lost their last group A game against Australia in the ongoing Hockey World League, but their performance in the competition cannot be judged by their only loss against Australia. They drew with Pakistan after defeating France and Poland.
India as a result finished second in Group A and are hence scheduled to meet Malaysia, who finished third in Group B, in the round of last eight in Antwerp, Belgium.
Malaysia lost and won two each to secure a berth to play against India. They started the competition by emerging victorious against China and Ireland, who were obviously the weaklings in Group B.
When they faced some tough challenge from Belgium and Great Britain, they conceded defeat. Despite Malaysia's two back-to-back losses, India cannot take them lightly, and the men in blue must clearly keep in mind their defeat in Azlan Shah Cup a few months ago with the scoreline reading 3-2.
Hence, both India and Malaysia are aware of the strengths and weaknesses of their opponents, which just means they will come fully prepared for the quarter-final clash.
Despite some good performances, India's coach Paul van Ass believes his men learned some important lessons during the group matches.
"We ought to take the lessons learnt from this game into the quarterfinal contest with Malaysia," PTI quoted Paul van Ass as saying. "There were some valuable lessons learnt during the pool matches here."
India could not come up with their best game against Australia. Their defence looked lacklustre and was unable to cope up with the constant threat from the Aussies. Indian defenders need to brace themselves for a feisty encounter against the Malaysians, who are an aggressive side.
The Australians were in full control of the game and the Indians finished second best in all departments of the game. Paul van Ass wants his players to set the pace against Malaysia. With players such as Sardar Singh in the midfield along with Ramandeep Singh in good goal-scoring form, the Indians have the firepower to dictate the game.
"We should be able to set the pace of the match," said van Ass. "Against Australia, we could do little when we got caught in the rhythm set by the World champions."
Apart from dictating the pace, Indian players need to find a way to make use of their penalty corners.
As India finished third in the 2015 Azlan Shah Cup, they have been improving under the guidance of Van Ass, who has been shaping the team to prepare for Rio Olympics 2016. Another good performance against Malaysia will not only help them grab the semi-finals spot, but also help them increase their level of confidence.
Where to Watch Live
India vs Malaysia quarter final clash in the ongoing 2015 Hockey World League semi-final is scheduled for 6pm local time (9:30pm IST) start with live TV coverage in India on Star Sports 1 and Star Sports 1 HD with live streaming option on starsports.com.
Audience in Pakistan can catch the game live on PTV, while Malaysian viewers can watch on Astro and Star Sports.
Australian viewers can catch the action live on Fox Sports with live streaming option on Foxtel.
Ireland and the UK viewers can follow it live on Sky Sports with the live streaming option on Sky Sports.
Viewers in Belgium can watch the game live on Telenet.