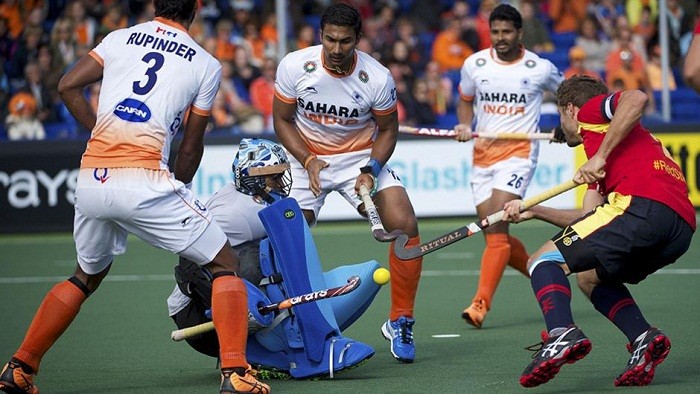 Apart from Australia, no other team has dominated India on the green turf in the ongoing Hockey World League semi-finals. But the Indian team will be put under severe test as it prepares to face hosts Belgium in the last four on Friday, given the Belgians have been equally impressive in the competition.
Not only did Belgium top Group B, they scored goals for fun. Belgium have looked a dangerously offensive unit, which can be understood from the 17 goals they have scored in the competition.
Amongst all other nations in the competition, only Australia have slotted home more goals (26).
Hence, it is a huge cause of concern for the Indian team, which has been found wanting a number of times in the past.
Even teams such as Poland have been able to pressurise the Indian defence. If India do not come up with a strong defence against Belgium, the hosts are bound to inflict damages on India.
Their defenders have also lost the ball easily, which they cannot afford to against the Belgians, who can use their pace to good advantage.
John-John Dohmen, Dorian Thierry and Amaury Keusters are Belgian players that India needs to be wary of.
The Indian team will depend on the services of their goalkeeper PR Sreejesh, who has been able to fortify the Indian defence with his big gloves.
But in the match against Belgium, the Indian defence needs to stand up and be counted.
In its clash against France in the round of eight, Belgium scored 5 goals, but also conceded four, which are good signs for the India them as the men in blue have players to slot home those goals when an opportunity comes through.
Forwards such as Akashdeep Singh and Ramandeep Singh need to be on their toes against Belgium. Ramandeep, who is the highest goal scorer for India with four goals, has been exceptional in front of goal.
India's main problem has been their penalty conversion, but the fourth quarter against Malaysia seems to have produced a penalty corner expert in Jasjit Singh, who score two beautiful goals with amazing and powerful drag flicks.
In the absence of VR Raghunath and Rupinder Pal Singh, who are the two best options from penalty corner for India, Indian coach van Ass' problems seem to have been solved by Jasjit Singh.
"We now have some alternative, I am very happy for Jasjit who works hard in the field," PTI quoted van Ass as saying. "The good thing is to have penalty corner options."
Apart from this, penalty corner specialist Rupinder Pal Singh was given some game time during their quarter-final clash against Malaysia, which shows that the player is recovering well and might spend some more time on the field against Belgium.
The other semi-final will be contested between Australia and Great Britain, where the winner will meet either India or Belgium in the final.
Where to Watch Live
The two semi-finals in the ongoing 2015 Hockey World League is scheduled to begin at 6:30 pm local time (10pm IST, 5:30 pm BST) start with live TV coverage in India on Star Sports 1 and Star Sports 1 HD with live streaming option on starsports.com.
Belgium hockey fans can catch the action live on Telenet.
PTV will air the game live in Pakistan and Malaysian viewers can watch it on on Astro and Star Sports.
Viewers in Australian can follow the second semi-final live on Fox Sports with live streaming option on Foxtel.
Ireland and the UK viewers can watch it live on Sky Sports with the live streaming option on Sky Sports.