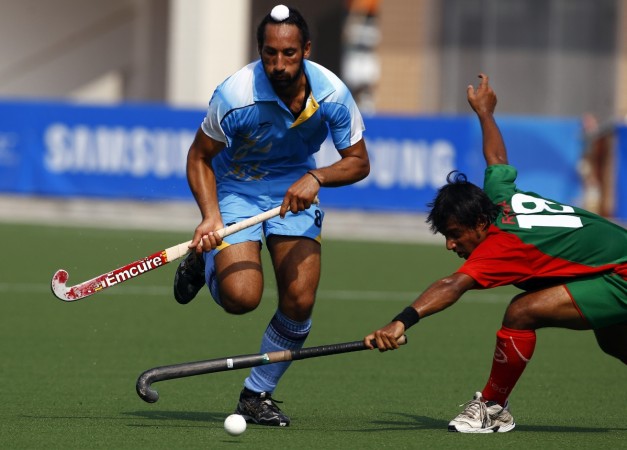 India will head into the first match of the Hockey World League Semi-Final 2015 in Belgium as a confident side after coming up with a string of impressive performances in their practice matches. They defeated teams such as the US, Great Britain and France and lost only to Belgium in a close encounter.
India open their campaign on 20 June against France who cannot be taken lightly inspite of being defeated 0-1 in their first practice match. Playing a competition like the Hockey World League is a different ball game altogether as it brings a lot of pressure compared to a practice match.
France are ranked lowest in the group, which consists of nations such as Pakistan, Australia and Poland. Undoubtedly, Australia enter as favourites in the competition. France are determined to give their best in the match, while India would want to win.
If India's performance in the practice matches is any indication, they look good but the 'real test' will be against France on Saturday, according to India's coach Paul van Ass.
"The boys look in good form as they have showcased great play during the practice matches. But tomorrow will be the real test that they have to pass," PTI quoted van Ass as saying.
India have always been a strong team when they are presented with a penalty corner. With quality drag flickers in India's squad, they will try to to convert their chances into goals.
Van Ass further said converting penalty corners into goals will be crucial.
"With France they have to be careful as they are a strong team and will not give in easily. The key tomorrow will be to get the crucial penalty corners in our name and convert them."
Under the guidance of van Ass, India finished third in the Sultan Azlan Shah 2015 and also defeated Australia in the round robin stages of the tournament. But they were not impressive in the initial stages of the competition.
Paul van Ass might have corrected upon India's offence and one can expect India to be major force going forward.
There were plenty of things to look forward to after India defeated fifth-ranked Great Britain in the practice match, winning 3-1.
"Our practice match against Great Britain helped the team to work on the initial pressure that we had planned. I am hoping they continue this tomorrow (against France)," added van Ass.
Where to watch Live
The first match between India and France in the Hockey World League Semi-Final between India and France has been scheduled for 6pm local time (9:30pm IST) start with live TV coverage in India on Star Sports 1 and Stars Sports 1HD and live streaming option on starsports.com.
Viewers in Belgium can watch the game live in Telenet, while Australian viewers can catch the action live on Fox Sports and Foxtel.
Ireland and Great Britain viewers can follow it live on Sky Sports, with the live stream option on Sky Go, while audience in Pakistan can switch to PTV for live coverage.
Asian along with Italian viewers can watch it online on starsports.com.