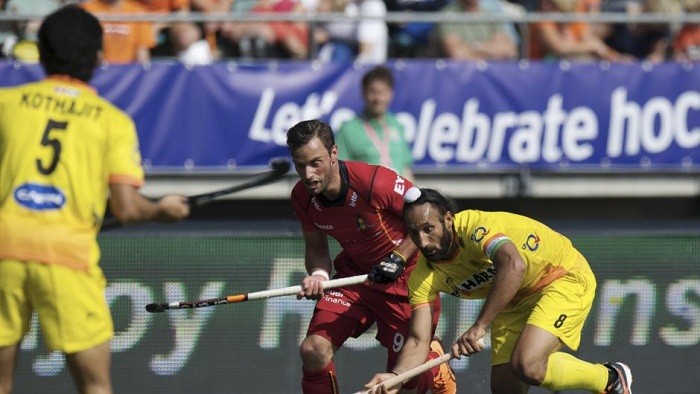 After losing the first match narrowly against the higher-ranked Belgium, India is aiming to secure all three points against England, in their second game of the 2014 Hockey World Cup at The Hague on Monday.
England is not a very attacking outfit like Germany and Australia and, considering the way Indian defence performed in the initial phase of the first match, it would not be difficult to hold them. However, in their last meeting at the World League Finals, England defeated India 2-0.
Against Belgium, India - who were leading 2-1 - conceded an equaliser and then a late winner to lose crucial points. However, they cannot afford to repeat the same mistake against England, if they have to keep their semifinal hopes alive.
"England is a formidable opponent and we will be strongly challenged in our match against them," Indian coach Terry Walsh said. "We will have to move the ball effectively and this we will attain by utilising appropriate dodging techniques which will help to create opportunities if we are able to execute in a timely fashion."
"Understanding the deficiencies in our last contest and applying suitable adjustments will be a big test. Within the tournament this game has significant importance and our mental preparations and resilience will be tested. How we play, and how close we finish, the fact is that the scores matter in the end."
Indian skipper Sardar Singh, who was dejected after the defeat against Belgium, said the players performed pretty well and showed tremendous strength against a stronger opponent but were disappointed after slipping at the crucial juncture.
"We are disappointed that we lost the match in the last few minutes yesterday but we will take the positives from the match and apply it during our clash with England tomorrow," Singh said.
"We realise that they are ranked 4th in the FIH ranking but that will not deter us to go for the win as the boys are high on confidence post yesterdays show of performance and I see them as more determined in their quest for success."
England coach Marc Lammers, who helped Netherlands clinch the 2008 Olympic gold, was surprised by India's performance against Belgium and acknowledged the team can create troubles for them in the upcoming encounter.
Schedule of Play
Australia vs Japan (Women) Starts at 10:30 am CET, 2:00 pm IST
Australia vs Spain (Men) Starts at 1:00 pm CET, 4:30 pm IST
South Korea vs New Zealand (Women) Starts at 2:30 pm CET, 6:00 pm IST
England vs India (Men) Starts at 4:00 pm CET, 7:30 pm IST
Malaysia vs Belgium (Men) Starts at 5:30 pm CET, 9:00 pm IST
Netherlands vs Belgium (Women) Starts at 7:45 pm CET, 11:15 pm IST
Where to Watch Live
The first match, between Australia and Japan, is scheduled for a 10.30 am local time (2 pm IST) start, with India vs England match set for a 4 pm local time (7.30 pm IST) start. Live coverage in India is on Ten Sports, with the live streaming option HERE. Viewers in the US can catch the action on ESPN 3 or via the live streaming option HERE. The UK viewers can watch the matches on Sky Sports 3, while they can also catch the action live online HERE.