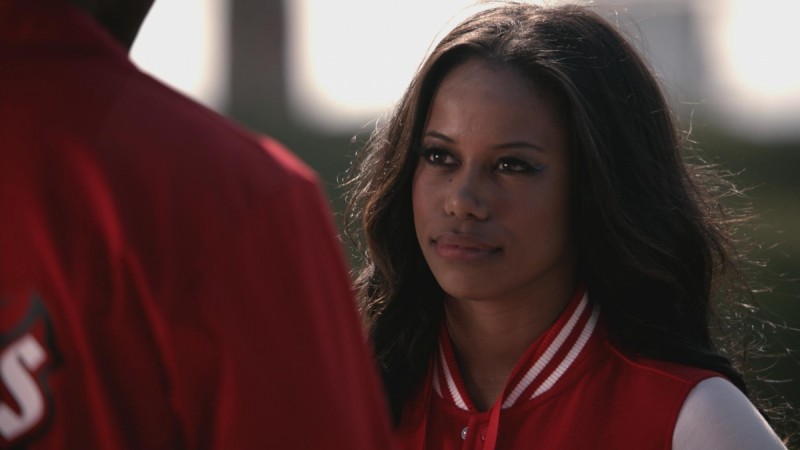 The tension between Ahsha (Taylour Paige) and German (Jonathan McDaniel) becomes palpable in the latest instalment of "Hit the Floor." In Season 3 Episode 6 titled "Carrying," the couple has an honest conversation about their future.
In a sneak-peek video released on VH1's website, German is taken aback by the amount of love and care he receives from his girlfriend. Her overtures are not missed and he begins to suspect that something isn't right. In the video clip, German tells Ahsha, "The last time you tried this hard, you just kissed Derek and you felt guilty."
Fans of the show will remember that the Devils' girl has been spending a lot of time with her ex Derek (McKinley Freeman). Although she learns that her boyfriend killed Olivia Vincent (Charlotte Ross) for her benefit, it doesn't stop her from feeling passionately for her ex-boyfriend. However, her loyalty for German impels her to stay with him, but will he break up with her after learning the truth?
In another promo video, German hunts down Derek and the two get into a physical altercation. A visibly angry German does not want to listen to logic and reason. He thrashes Derek and it remains to be seen what happens next.
The video clip also makes a shocking revelation: Jelena (Logan Browning) meets a pregnant woman who says that she and Terrence (Robert Christopher Riley) have a lot to discuss. Although this does indicate some kind of friction between Jelena and Terrence, we predict that she may not break up with him because she's obsessed with projecting themselves as a power couple.
Season 3 Episode 6's synopsis released on TV Guide reads:
"Tensions escalate between Ahsha, German and Derek. Meanwhile, Jelena faces her worst nightmare; Sloane begs Pete for a favour; Zero throws an unforgettable party; and Kyle films her movie."
"Hit the Floor" Season 3 Episode 6 airs on Monday, Feb. 29 at 10 p.m. EST on VH1. You can live stream the episode here.