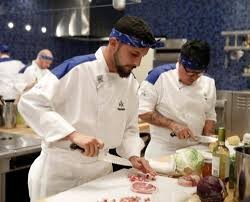 Almost every episode of "Hell's Kitchen" is filled with drama and heartache for the contestants. If they're not fighting among themselves, they are at the receiving end of chef Gordon Ramsay's wrath. What will the Michelin star chef do in Season 15 Episode 5?
The latest episode will depict the fate of the remaining 14 contestants on FOX's reality cooking series. Both teams will have to cook main courses surrounding three holiday themes: 4th of July, Mardi Gras and Cinco de Mayo. It would be suffice to say that we expect to see a lot of Mexican dishes; delights straight from the bayou and classic American food. The winning team will be judged on how many plates they manage to put up. The judges for this round include chef Ramsay and Linda Fears, editor-in-chief of Family Circle magazine.
According to the synopsis released by The Futon Critic, the winning team will travel to Santa Inez Valley and blend their own wine.
Elsewhere in the episode, the dinner service will be rocky and tempers will flare up during the course of their cooking. The synopsis states that both teams will be kicked out of the kitchen. However, does this mean that chef Ramsay will stop dinner service abruptly?
Season 15 Episode 5's synopsis reads:
After the red team gains a member from the blue team, Chef Ramsay introduces the contestants to a celebratory challenge as he tasks them to work in pairs to create three main dishes each with a different holiday theme: 4th of July, Cinco de Mayo and Mardi Gras. The team that completes the most dishes successfully wins. With the help of special guest Linda Fears, editor-in-chief of Family Circle magazine, Chef Ramsay will choose who will win and be flown to Santa Inez Valley to blend their own wine and who will face a not-so-sweet dinner service preparation. Later during the dinner service, tempers flare during family night in Hell's Kitchen, causing not one, but both teams to be kicked out of the kitchen
"Hell's Kitchen" Season 15 Episode 5 will be aired on Wednesday, Feb. 10, at 9 p.m. on FOX. You can live stream the episode via FOX NOW.