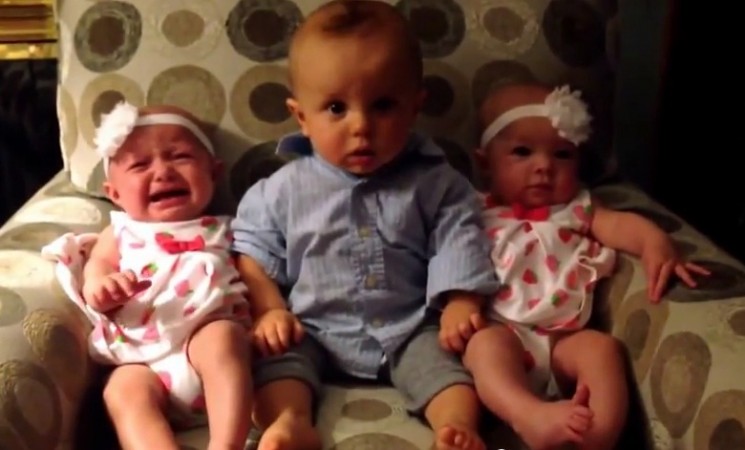 An American home video showing the comical moment a baby boy gets into a spin as he encounters twins for the first time has gone viral on YouTube and warmed the hearts of millions.
The video, shot by an unidentified family in America, shows a little boy sitting in between twins on an armchair at home. The confused toddler, with his eyes wide open and his head swinging from side to side, has clearly never been so confused in his short life and has simply no idea what to make of the mirror images sitting on either side.
As one of the twin girls starts crying, the boy looks at her and rapidly shifts his attention to the girl seated on the other side. The newborn twin girls appear before his innocent eyes wearing exactly the same pink patterned dresses and white headbands.
One of the most priceless moments of the 31-second viral video is the point where the bewildered toddler looks directly at the camera –something that is sure to invoke laughter from those watching the beautiful footage.
Watch the video below:
The amazing piece of cuteness has so far been watched over 1.98 million times at the time of writing this article, ever since it was first uploaded on Wednesday.
"His facial expression is absolutely priceless!!" said Justina Gonzaga commenting on the video.
"The look on the face is priceless when he meets these twin girls," said another person with the profile 'itsjudytime'.
"She's crying over here...but, she's not doing anything over here..Are they the same person? How did I get here? Mom?" commented 'KlingonCaptain' imagining what the toddler might be thinking in the video.