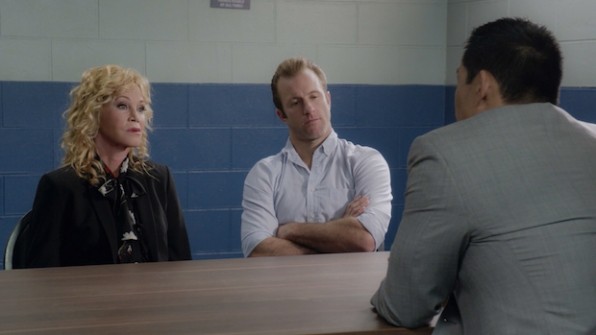 "Hawaii Five-0" is now marching towards the personal lives of characters with every new episode. While in Episode 14 we saw the disastrous Valentine's Day stories of each of them coming out, in Episode 15 Danny's mom will make a comeback to unravel some more dark secrets.
CLICK HERE to watch "Hawaii Five-0" Season 6 Episode 15 live. And CLICK HERE to watch "Ke Koa Lokomaika'i" (The Good Soldier) later online.
Last time in Episode 14, we saw the Five-0 members shared their worst Valentine's Day experiences, while some of the characters celebrated the day with special dinners, flowers and treats. "Hoa 'inea" also saw how the team solved a double murder case that involved cheating spouses.
In Episode 15, we will see how the Williams family will be on FBI's radar again. The episode will witness the return of Danny's mom (played by Melanie Griffith), and it has been hinted that her comeback will lead to many secrets and bigger things unfolding in the future episodes.
The synopsis of "Ke Koa Lokomaika'i" teases that Danny's family will continue to deal with the consequences of his younger brother, Matt's action, as his mom will be questioned by the FBI. On the other hand, Five-0's informant will be accused of murder and McGarrett will have to ask an old friend Odell Martin to defend him.
The promo clip of the upcoming episode also teases a lot of action as Lou Grover and Kono Kalakaua are seen wielding guns. Also, Danny's mother is seen pushing a strange request, while sending Danny on some kind of guilt trip.
Why is Danny's mother sending him on a guilt-trip? What is her strange request? Well, Episode 15 will answer all these questions. But one thing that has been widely reported is that Danny's mother will have an integral role as the plot develops in the future episodes.
Official synopsis of Episode 15 reads: "While Danny's mother is questioned by the FBI, McGarrett partners with a young man with autism who may have information to help solve the murder of his only friend."
"Hawaii Five-0" Season 6 Episode 15, titled "The Good Soldier", will be aired on Feb. 19, 2016, at 9 p.m. on CBS.