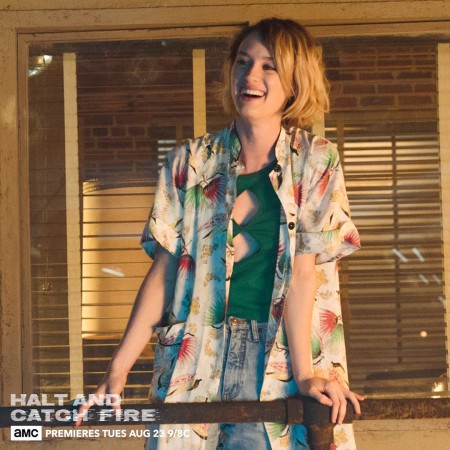 Cameron (Mackenzie Davis) and Donna's (Kerry Bishe) relationship gets strained again. In the latest installment, Season 3 episode 5 of "Halt and Catch Fire," a business opportunity presents itself and while Cameron is against it, Donna wants to make a deal.
In "Yerba Buena", Cameron and Donna are conflicted about credit card authorisation. They are unsure about whether or not to allow credit cards for their SwapMeet business. Although the opportunity to allow payments through credit cards itself is an exciting one, Cameron begins to feel as if she's losing her company by agreeing to a merger.
In the promo for Season 3 episode 5, she tells Donna that she doesn't want the credit card company to have a share of the profits. However, her partner disagrees. To be sure, Donna and Cameron's vision for Mutiny is quite different and in the upcoming episode of the AMC TV series, this becomes very evident.
CarterMatt predicts that Donna might just make a deal with the credit card company, but it remains to be seen how Cameron takes to it. Perhaps it is safe to say that the coder's emotional predicament in the upcoming installment doesn't lend itself to a constructive conversation. If anything, we see their relationship debilitating further.
Cameron's vulnerability partly results from her trip to Texas. The synopsis (via TV Guide) states that she travels south along with Bosworth. Fans have been expecting this as it was evidenced in last week's episode as well. However, it remains to be seen how she feels after meeting her dad.
"Halt and Catch Fire" Season 3 episode 5 airs at 10 p.m. EST on AMC. You can live-stream the episode via AMC's website.