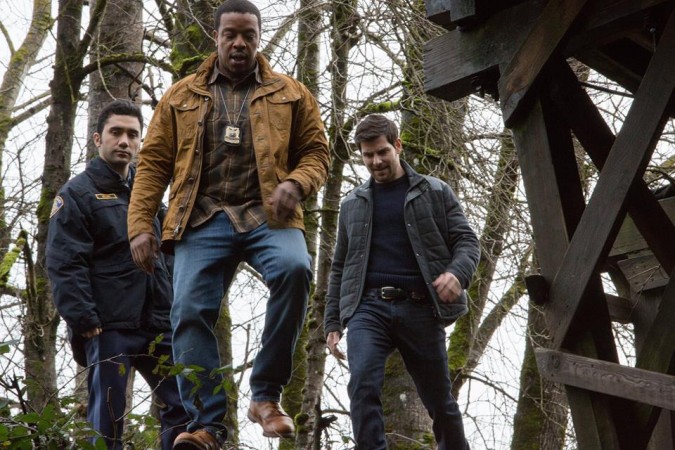 In the upcoming episode titled "Inugami" of NBC's supernatural drama series "Grimm" Season 5, a mysterious Japanese Wesen will threaten the local youths while Adalind (Claire Coffee) will have a face-off with Eve (Bitsie Tulloch).
CLICK HERE to watch who the mysterious Wesen is and what will happen when Adalind and Eve will face each other.
According to the synopsis by TV.com, "Local youths are in danger due to an ancient code of vengeance that has been adopted by Japanese Wesen. In the meanwhile, Adalind crosses paths with Eve upon returning to work at her old law firm."
As reported by TV Line, Tulloch said: "Oh, Adalind doesn't stand a chance. Eve is so powerful at this point that she could just look at somebody and make their head explode.
"There's a little bit of a threat going on during the confrontation. Eve tells Adalind that she knows exactly what she is and warns her that she needs to watch her back. But Eve doesn't touch Adalind and leaves her alone. Eve's not going to waste her time with Adalind at this point."
The promo of the episode hints that Eve knows about Adalind's Hexenbiest powers. Worried that Adalind might use it against her, Eve warns her never to hurt Grimm otherwise there will be bad consequences.
Eve can be seen, warning Adalind, "If you hurt Nick, I will come for you."
Whether Adalind will take Eve's warning seriously and let Nick know about her powers or not, will be seen once the episode airs.
According to The Futon Critic, Nick and Hank will be looking into a case of Japanese Wesen acting on an "ancient tradition of revenge."
In the previous episode titled "The Believer," an evangelical minister attracted more 'true believers' to his tent revival with the power of his Wesen identity, and Nick and Hank had to get involved when all hell broke loose.
Meanwhile, Capt. Renard (Sasha Roiz) took further steps to hold sway in local government as Eve (Bitsie Tulloch) borrowed a page from Adalind's (Claire Coffee) book to gain more access to Black Claw.