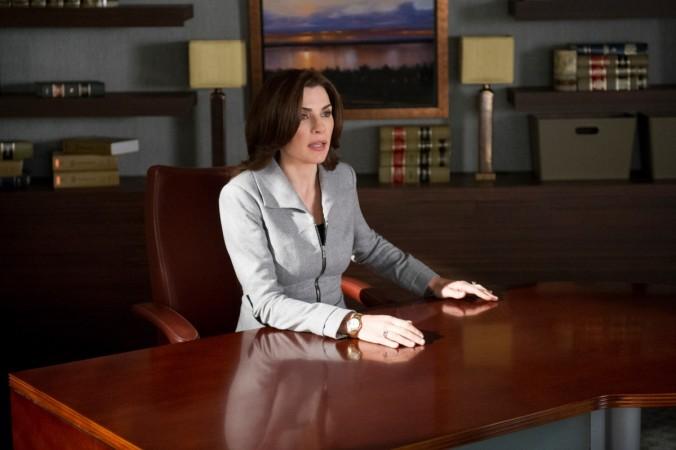 Henceforth, Sundays will no longer include a one hour episode detailing the drama in Alicia Florrick (Julianna Marguiles), Peter (Chris Noth) and Jason's (Jeffrey Dean Morgan) lives. The end of CBS's hit legal drama, "The Good Wife" is upon us, and like most TV series, the show returns to its beginning when Peter was a criminal and did time in jail. In Season 7 episode 22 titled "End," the audience will find out if the law recognises him as a criminal yet again.
There is a high chance that the Governor of Illinois may be sentenced. His lawyer Lucca (Cush Jumbo) mentioned this to Jason in episode 21 titled "Verdict." To be sure, Peter perhaps knows that he will be confined within the four walls of a prison. That's why he told his estranged wife Alicia that he would take the plea deal. However, the cliffhanger didn't reveal his fate.
If Peter does go to prison, Alicia may not divorce him. She even hinted at this in last week's episode. In this case, will Jason break up with her? Or will she change her mind and move on?
Fans of the show will remember that Alicia did talk about her happiness in episode 21. In fact, "The Good Wife" creators Michelle and Robert King said that Alicia's happiness is integral to the series finale's plot.
In an interview with the Daily Beast, Robert said that Alicia's two main ambitions remain happiness and control over her fate. Earlier in Season 7, she was torn apart after listening to Will's last message. Alicia bereaved the future she could have had with Will. Perhaps this knowledge will impel her to move on from Peter and choose Jason, who seems madly in love with her? Alicia is no doubt one of the most complicated protagonists on TV.
How do you think the series will end? Let us know in the comment section.
"The Good Wife" Season 7 episode 22 airs at 9 p.m. on Sunday, May 8, on CBS. You can live-stream the episode via CBS All Access.