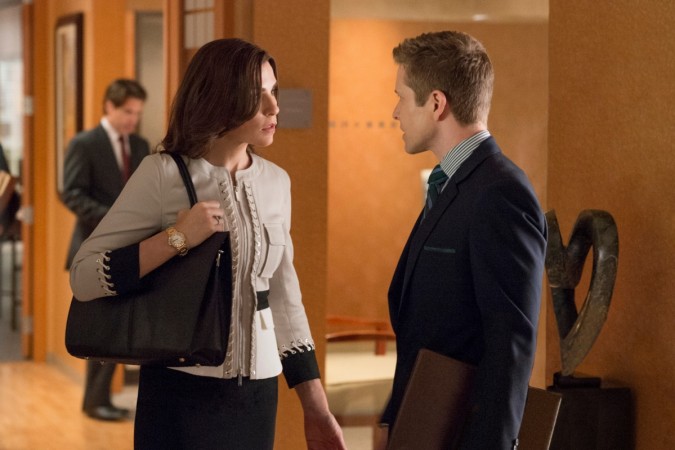 The latest instalment of "The Good Wife" Season 7 episode 20 titled "Party" indicates that the show will include a joyous occasion. However, the CBS hit TV series will throw in some twists and turns (of course) to make sure that no one is really enjoying at the party.
In the upcoming episode, Alicia Florrick (Julianna Marguiles) throws a wedding party for Howard and Jackie. Yes, the two finally tie the knot and look extremely happy. However, the soiree, thrown in their honour, is fated to be disastrous. The flowers that get delivered turn out to be those required for a funeral.
More troubles baffle Alicia as she tries to handle the situation. In the video clip for episode 20, Peter (Chris Noth) looks extremely uncomfortable and asks if he can talk to her privately. Later on, her friend and colleague Diane Lockhart (Christine Baranski) asks her the same question.
As Alicia's stress levels rise, her kids badger her about the secrecy and lies that have clouded the happy occasion. Zach asks her what the fuss is about. It is unclear if Alicia tells them about Peter's impending trial.
Meanwhile, Eli asks Jason Crouse (Jeffrey Dean Morgan) to investigate the Locke case. In "Landing," Cary Agos told Eli that the case against Locke was deemed a mistrial because of the lack of evidence against the person in question. This was primarily because the bullets weren't found. Perhaps Jason will have to find out if Peter had anything to do with the missing bullets.
Will Peter be convicted of corruption? Will the prosecution have enough evidence against him? This remains to be seen. We predict this storyline will extend until the TV show's series finale.
"The Good Wife" Season 7 episode 20 airs 9 p.m. EST on Sunday, April 24, on CBS. You can live-stream the episode via CBS All Access.