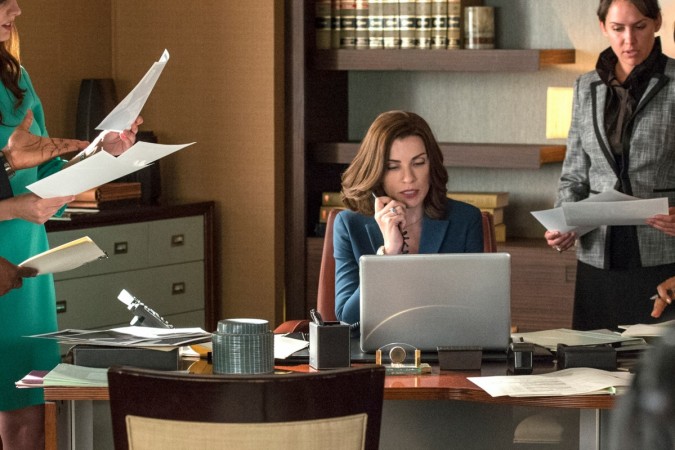 Alicia Florrick's (Julianna Marguiles) new beginning at Lockhart, Agos & Lee may not have had a good start, but the lawyer will find herself involved in big cases. The latest instalment of "The Good Wife" will capture some happy moments in Alicia's life, but will they be short-lived?
In Season 7 Episode 15 titled "Targets", Alicia will work on an important case along with a team of lawyers. The legal team's advice will be important to the U.S. government as it deals with a controversial issue. Although it isn't yet clear what the problem is, suffice to say that Alicia will find herself intellectually stimulated and will be happy about her decision to join Cary Agos' (Matt Czuchry) firm.
The promo for the upcoming episode indicates that Jason (Jeffrey Dean Morgan) and Alicia will spend time together. Jason's presence in her life will no doubt make her forget the past with William (Josh Charles) but we suspect her relationship will be muddled by estranged husband Peter Florrick (Chris Noth).
Peter will run into some legal trouble of his own and he may need Alicia's help. The FBI will trail the governor and gather information from those close to him. While it is unclear if Peter knows about the FBI's mission, Eli (Alan Cumming) will uncover the agency's motive when he sees them talking to his daughter Marissa (Sarah Steele).
Eli will appoint Elsbeth Tascioni (Carrie Preston) to follow the FBI and find out their plan. It remains to be seen if Peter's problems have emerged from his Iowa loss. After all, Ruth (Margo Martindale) did mention that it will have repercussions in his life.
Season 7 Episode 15's synopsis released via TV Guide reads:
"Alicia joins a secret panel of attorneys advising the U.S. government on a controversial case. Meanwhile, Eli hires Elsbeth Tascioni to uncover why the FBI is targeting Peter."
"The Good Wife" Season 7 Episode 15 airs Sunday, Feb. 21 at 9 p.m. on CBS. You can live stream the episode via CBS All Access.