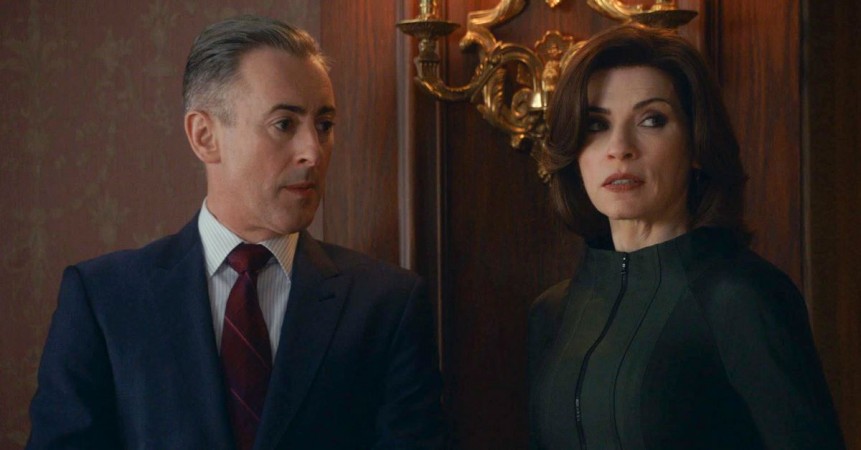 The end of CBS's hit legal drama, "The Good Wife" is upon us and the future of the Florricks still remains uncertain. In Season 7 episode 19 titled "Landing," Alicia (Julianna Marguiles) and Peter (Chris Noth) are in for a huge shock.
So far, Peter has tried to duck and hide from the law. But he won't be able to do so anymore. In the latest episode of "The Good Wife," the Illinois Governor goes to jail. In the promo (via Spoilers Guide) for episode 19, Assistance Attorney Connor Fox (Matthew Morrison) walks in with an arrest warrant for the Illinois Governor. While this episode unfolds, Alicia watches on.
Perhaps in her non-reactive state, she decides how to become a source of comfort for her husband. Alicia finally speaks up and reassures Peter. She says that they will get through this period, adding that they've been through worse. This touching scene is sure to melt hearts and make fans reach out for their tissues because Alicia once again proves that she has an empathetic heart.
For Peter however, his arrest makes him uncertain about his future. In the promo he says, "We are back where we started."
Although Alicia couldn't agree more, it is Eli Gold's (Alan Cumming) shocked expression that is a tad bit discomfiting. After all, he is partly responsible for Peter's arrest. The former campaign manager spilled the Governor's secrets in exchange for his daughter's safety a few episodes ago. What sort of role will Eli play in Peter's arrest? How will this affect his relationship with Peter? This remains to be seen.
"The Good Wife" Season 7 episode 19 airs 9 p.m. EST on Sunday, April 17, on CBS. You can live-stream the episode via CBS All Access.