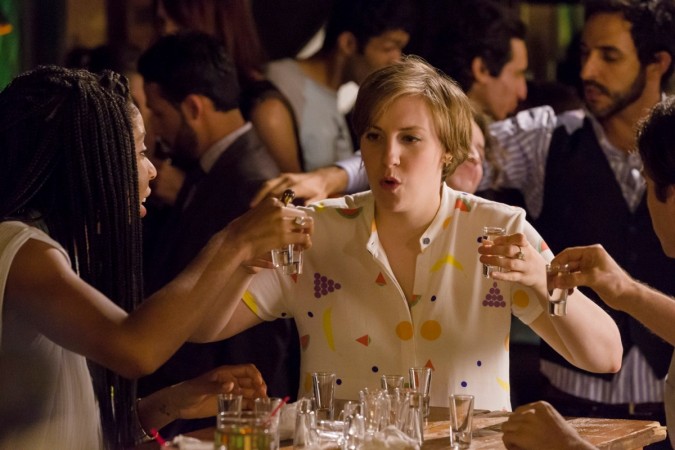 In the latest episode of HBO's comedy series, "Girls," Adam and Jessa have a huge argument about Jessa's quirks. Their relationship will be tested when Season 5 episode 5 airs.
Fans of the show will remember that Fran (Jack Lacy) and Hannah (Lena Dunham) have been experiencing problems of their own. A few episodes ago, Hannah replaced Fran's ex-girlfriend's nude photos with her own. Her attempt at making herself seen didn't go well, and the two fought.
The promo for the upcoming episode indicates that Hannah will go on a weekend retreat to take a break from Fran and her drama-filled life. In the video clip, she is blindfolded as she walks into the retreat centre. The landscape, which is lush with trees and manicured gardens, puts her in a better mood and she even makes friends.
Elsewhere, Jessa (Jemima Kirke) returns from her holiday and Adam is excited to see her. While talking about the details of her trip, she mentions that she and her sister slept with everyone except their dad. This information stuns Adam and he lets go of her hand. Will the two fight again? What will Adam do? This remains to be seen.
Season 5 episode 5's synopsis (via TV Guide) reads:
Hannah goes away with her mom, who's still trying to figure out her relationship with her husband, while Hannah enjoys time away from Fran. In Japan, Shoshanna's romance with Yoshi is blossoming; and back in the U.S., Jessa asks her sister for a favour.
"Girls" Season 5 episode 5 airs Sunday, March 20, at 10 p.m. on HBO. You can live-stream the episode via HBO GO.