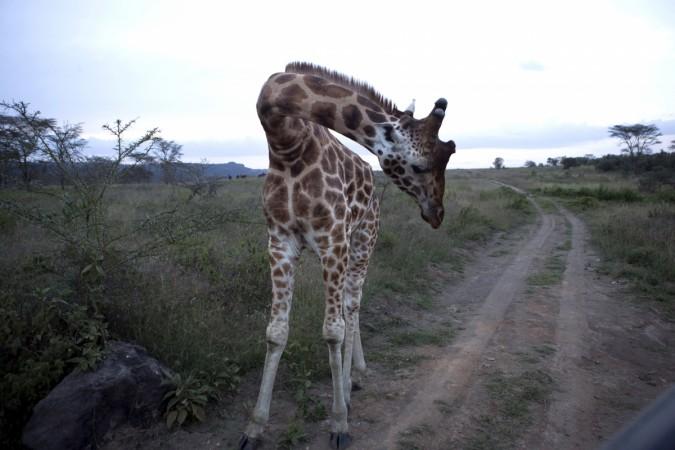 Cars and animals don't go well together, it seems. Remember the video from the Khao Yai National Park in Thailand showing an elephant climbing on top a car and crushing it? Now, another video has emerged showing a giraffe damaging a car after its neck gets stuck.
In the video, the curious animal is seen putting his head inside a car to eat food from a woman's hand who was sitting in the vehicle by the side of the driver. The footage was recorded at West Midland Safari Park in Britain.
The woman started rolling up the window and the bewildered animal tries to pull its neck out and the glass shatters against its face with a loud noise. Later, according to the Indian Express, a zookeeper used food as bait to check on the giraffe.
It was also reported that the couple in the car said that they went into a panic mode and could not think straight.
According to reports, visitors are allowed to keep windows half open and can feed the animals in the drive-in zoo.
People filming the video from other cars are heard shouting: 'Oh God, are you alright? Do you want me to try and call someone?"
The person who filmed the video told Daily Mail: "I recorded this, I can assure you the giraffe was perfectly fine. I honked the horn for the keepers to come over. I pointed out the giraffe and they used food as bait to get a closer look. They were happy that it wasn't hurt and let it be. The passenger did have some cuts. In fact, we had lots of glass in our car, on my lap and on the dash. No idea why the window was raised."
Check out the video here: