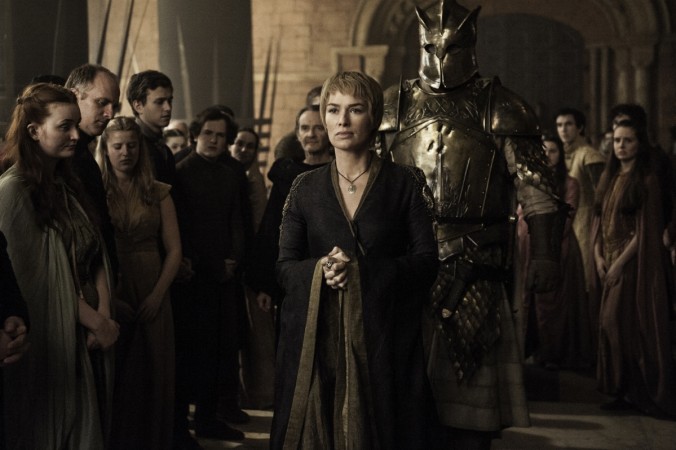 The Season 6 of "Game of Thrones" is inching towards a finale and what that may translate to is a rise in the death toll can be expected. There are many predictions regarding the deaths that the upcoming Season 6 episode 9 "Battle of B-------" will see.
Potential spoilers ahead
In the final two episodes of the Season 6, we expect to see a lot more deaths, some that will upset us and some that will be exceedingly satisfying. Here are our predictions for the top five deaths this season:
5. Melisandre: In the premiere episode of "Game of Thrones" Season 6, fans learned that the Red Woman (Carice Anouk van Houten) was infinitely older than we had assumed. Unlike in the previous season, Melisandre seems not too confident and moreover, she seems to be tired of life in general. Many fans have predicted that she may remove her necklace for good and die of natural causes.
4. Cersei Lannister: One of the most popular and logical fan theories that has popped up in Reddit is that Cersei (Lena Headey) will die in the hands of her beloved brother/lover. The theory suggests that Jaime (Nikolaj Coster-Waldau) learns about Cersei's intentions to burn King's Landing and kills her to prevent it.
Also Read: Priyanka Chopra calls her 'Baywatch' character 'b---- in couture'
3. Tommen Baratheon: Tommen's (Dean-Charles Chapman) death will act as a reason for Cersei's decision to burn the city down. It is understood that Margaery's (Natalie Dormer) plans to get back at the High Sparrow may go southwards and result in the death of her young husband.
2. Rickon Stark: The youngest Stark brother is a prisoner of Ramsay Bolton (Iwan Rheon), which is what inspired Jon to prepare for war in the first place. A fan theorist who claims to have inside information on "Game of Thrones" suggests that Tommen will be killed by the sadistic Ramsay in front of Sansa Stark (Sophie Turner) and Jon.
1. Ramsay Bolton: Now, this is one death every fan of "Game of Thrones" is waiting to see. While there is no huge theory behind this death, we just want to see Ramsay suffer for everything he has done to Sansa and for somehow making us think Goffrey Baratheon (Jack Gleeson) is a better man. Hopefully, we will see a more satisfyingly gruesome death for Ramsay than we did for Goffrey.
Meanwhile, don't forget to watch "Game of Thrones" Season 6 episode 9 at 9 p.m. (EST) on Sunday, June 19, on HBO. You can live-stream the episode via HBO GO and watch it later on HBO NOW. In India, audiences can stream it live on Hotstar at 7:30 a.m. IST on Monday, June 20.