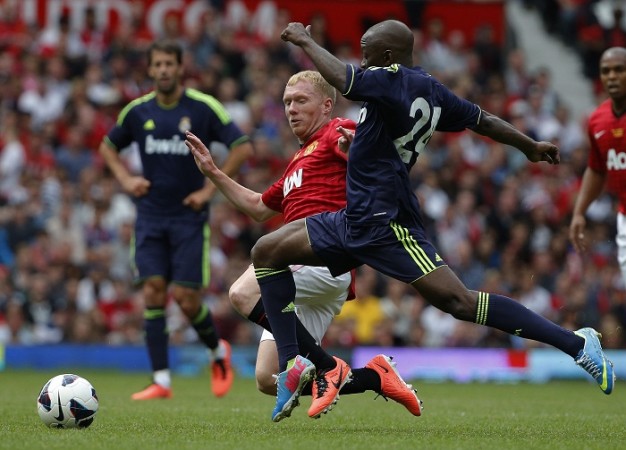 Bayern Munich and Manchester United might not meet in a competitive fixture during the upcoming season, but fans who will miss out on two of the biggest clubs in football go head-to-head will be able to make do with a fixture involving some of their former stars as Bayern Munich Legends take on Manchester United Legends in what promises to be an exciting game at the Allianz Arena on Saturday.
Where to Watch Live
The game is set for a 5.15 pm BST (6.15 CET, 9.45 pm IST) start with live coverage on MUTV. The match can also be watched via live streaming online HERE.
The charity game, with proceeds going to the Allianz foundation, will see Paul Breitner lead out the Bayern Munich Legends side, while Bryan Robson will be at the helm for Manchester United Legends.
The game follows the successful Legends game between Manchester United and Real Madrid last summer, and is again expected to raise quite an amount of money for charity.
"I'm really looking forward to pulling on the United jersey again," Phil Neville, a late inclusion to the United squad, told the club's official website.
"To be honest with you, I watched the Real Madrid game at Old Trafford and out in Madrid and felt they were really good games. They look like they are taken really seriously and I can't wait.
"It's a wonderful stadium to play in. I was coach there last year for the quarter-finals of the European Cup and can't wait to play there against a strong Bayern Munich team who will be taking it seriously.
"It's a wonderful arena and everything about it is special. It's great when the floodlights come on and light up in red all around the arena. I can say these are occasions that you think have gone but obviously with the Legends playing a game each year now, I'm looking forward to taking part in them."
Apart from Neville and Robson, United's squad also includes the likes of Paul Scholes, Andy Cole, Dennis Irwin and Dwight Yorke, and the former greats will look to trump Bayern's own squad of heavyweights.
While the game might read like a friendly, Neville has no doubts once the ball drops the competitive spirit will be naturally raised and a feisty, competitive affair will ensue.
"I think you come into these games thinking they will be friendly but, when you get out there, everybody wants to win," he added. "It's that kind of mentality footballers have once they have crossed that white line.
"They want to win games and I think it will be a competitive team we put out. We have some quality goalscorers, some fresh legs and hopefully by the time we come to the second leg at Old Trafford next year, we may have Ryan Giggs, Nicky Butt and Gary Neville playing as well as some other players. With the retired players playing, we could have a really formidable team."
The return leg of the Bayern Munich Legends vs Manchester United Legends game will be played at Old Trafford next year.
Squads: Bayern Munich Legends: Butt, Junghans, Babbel, Pflugler, Kreuzer, R.Kovac, Cerny, Witeczek, Breitner, Elber, Thon, Rummenigge, Paulo Sergio, Sternkopf, Gaudino, Zimmermann, van Bommel, Schupp, Zickler.
Manchester United Legends: Kuszczak; Martin, Irwin, Johnsen, Silvestre, P Neville; Robson, Thornley, Blomqvist, Scholes, Fortune; A Cole, Yorke, Dublin.