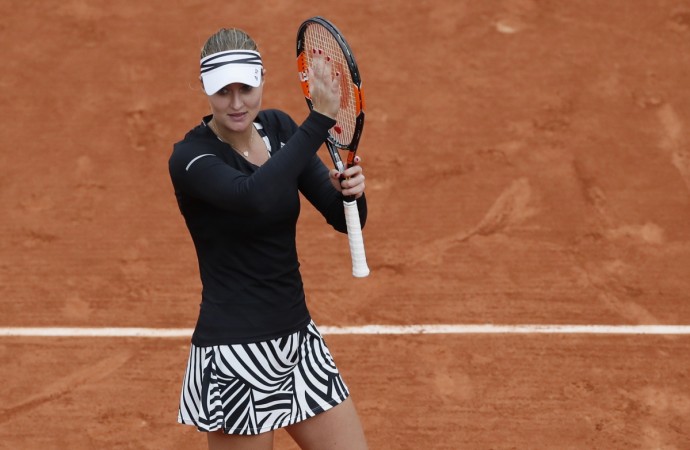 Defending French Open women's singles champion Serena Williams takes on hometown favourite Kristina Mladenovic in their third round match of the French Open 2016 on Saturday. The match is set to be a mouthwatering one as both the tennis stars recorded straight set wins in both their opening matches at Roland Garros.
Mladenovic, seeded 26, is coming to the match at the back of a 6-2 6-4 win against former French Open champion Francesca Schiavone and a 6-4 6-3 win against Timea Babos. Serena, meanwhile, comfortably sailed to the third round after easy wins against Magdaléna Rybáriková and Teliana Pereira.
Serena, 34, is always deemed as a favourite going in to women's singles matches and even Mladenovic, 23, knows that. However, she has mentioned that she isn't frightened going into the match at the Philippe-Chatrier Court on Saturday.
''Well, no, I'm not frightened,'' Mladenovic was quoted as saying by the Associated Press. ''No, I'm quite happy, I must say. I grew up watching Serena play.''
"She is dominating. She's been dominating every single match in recent years. And it's going to be very complicated,'' added the US Open quarter-finalist in women's singles. ''I'll have to make no mistakes if I want to do something against her."
World No 1 Serena, meanwhile, knows that she cannot be complacent as her junior counterpart has been in a hot form at Roland Garros so far this year, in the women's singles category. The 34-year-old, who missed out on lifting the US Open title last year, is vying for her 22nd overall Grand Slam title.
If she achieves the feat, she will also equal Steffi Graf's record of 22 Grand Slam titles.
Where to watch live
Women's singles: Serena Williams vs Kristina Mladenovic is the second game in order of the day at the Philippe-Chatrier Court on May 28. The match is expected to start at 11:30 a.m. GMT (5 p.m. IST, 7:30 a.m. EST).
Viewers in India can catch the action on Neo Sports and Neo Prime.
Viewers in the UK can catch the action on ITV and ITV Player. In Europe, the destinations remain Eurosport and Eurosport Player.
Viewers in the US can catch the action on Tennis Channel, ESPN and NBC. Live streaming destinations includeTennis Channel live, Watch ESPN and NBC Sports Live Extra.
Viewers around Hong Kong, Thailand and Singapore can catch the action on Fox Sports Asia.
The radio destination of the event remains Roland Garros Radio.